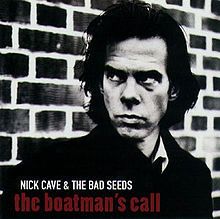 7/10
And now it's time to do that thing on The Nicsperiment where I have the exact opposite opinion of everyone else.
Nick Cave released
The Boatman's Call
in 1997 to universal critical acclaim, the best reviews, to this day, of his career. I am not particularly fond of
The Boatman's Call
.
The Boatman's Call
does that thing where an artists previously known for rowdier or more out-of-the-box music releases an album full of slow piano ballads. The Bad Seeds, when they are even utilized, barely have anything to do here. Most of these songs are focused on nothing but bass, piano, and Nick Cave's voice. That's fine for a few songs, and indeed,
The Boatman's Call
is fine for the first few songs.
The reviews for
The Boatman's Call
do that thing where I suspect the reviewer only listened to the first few songs of the album and then wrote their review. I don't mind the first few songs of this album, or even the individual songs themselves, but 52-minutes of slow, minimalist ballads are extremely hard to take in one setting. *Insert sex joke* Admittedly, I already don't like minimalist ballads in the first place, but I think there is validity in criticizing
The Boatman's Call
for being boring for using the same exact sound, tempo, and textures for its entire run-time. I have an equal amount of difficulty getting into, say, a punk record (a genre I genuinely enjoy), when all of its songs stick to the same exact sound, and feature the same exact tempos and textures. After all, this is supposed to be an album, not a 52-minute single.
The Boatman's Call
's lyrics do that thing where the artists drops their usual forte (in Nick Cave's case, dark storytelling), to focus on failed romantic relationships and struggles with religion. I get tired of instances like Cave's, "
I don't believe in an interventionist God
" lines of "Into My Arms" crashing into the straight-up profession of faith in "There Is a Kingdom." I want some kind of cohesion and sincerity in my lyrics. I much rather the vengeful God of Cave's earlier work, or the wonderful, glorious worship of God in the soon-to-be-reviewed by The Nicperiment
Abattoir Blues/The Lyre of Orpheus
. I only like to waffle in the morning.
And on that note, now I'm going to do that thing where I link to the one song from
The Boatman's Call
that truly breaks that mold(lyrics-wise...musically, the song is still a bit of a drag), "People Ain't No Good."
This review was brought to you by
Stefon
.
1997 Mute Records
1. Into My Arms 4:15
2. Lime Tree Arbour 2:56
3. People Ain't No Good 5:42
4. Brompton Oratory 4:06
5. There is a Kingdom 4:52
6. (Are You) The One That I've Been Waiting For? 4:05
7. Where Do We Go Now But Nowhere? 5:46
8. West Country Girl 2:45
9. Black Hair 4:14
10. Idiot Prayer 4:21
11. Far from Me 5:33
12. Green Eyes 3:32