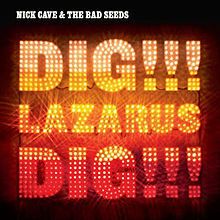 9/10
It's always nice to go back to my old best-of-the-year lists, and see that my opinion hasn't changed. That isn't always the case. However, in the instance of my 2008 list, there is little I would change--in fact, the top three would stay exactly the same. Drive-By Truckers'
Brighter Than Creation's Dark
is still my favorite album from that year. Portishead's
Third
is still...second. Nick Cave's
Dig, Lazarus, Dig!!!
is still third. A glance at my seven year-old recap for
Lazarus
also shows something else that hasn't changed in my relationship with this album: I can't describe it. Here's my best, brief try.
Nick Cave and the Bad Seed's 2004 release,
Abattoir Blues/The Lyre of Orpheus
, is a benchmark for the band. It features Cave as a vocalist, lyricist, and songwriter, as well as the Bad Seeds as musicians, all peaking. The songs are ornate and more complex than anything else Cave had ever done, the album's religious references putting Cave in the unfamiliar position of "Christian artist" and holder of wholesome respectability.
Naturally, Cave spent the next four years playing guitar in a garage rock side-band who features song-titles like "Love-Bomb" and "No Pussy Blues." That side-band, Grinderman, is the product of Nick Cave grating at anything resembling a mainstream cage. Cave brings those same raw, lascivious leanings to
Dig, Lazarus, Dig!!!
Dig, Lazarus, Dig!!!
completely drops the outdoorsy, holy spring on the moor of
Abbatoir Blues/The Lyre of Orpheus,
for a late-night stroll through dirty city streets. Three songs, "Moonland," "Jesus of the Moon," and "More News from Nowhere" are literally just chronicles of Cave ambling through garishly-lit back-alleys thinking about women or a lack thereof, reflecting on life, or just commenting on how scary everything is. Indeed, in these stripped down compositions, driven by raw electric guitar and bass, crazy organs, loads of percussion, and any weird noise Warren Ellis can make, there is a steady hum of underlying fear. A lot of times this fear is made explicit by the thrumming loops Ellis has created and thrown under the mix, particularly the doomsday buzz beneath the otherwise affable, if downtrodden closer, "More News from Nowhere."
With that said,
Dig, Lazarus, Dig!!!
contains a lot of contained racket, with a load of trademarked Nick Cave contemplation tossed in, and it all comes together with a ramshackle charm to produce one of the more fun albums of Nick Cave's career. It's sort of like he took "Saint Huck" from his first album and shot him into the future...where Nick Cave is a far more talented artist. Like I said, describing this album is hard.
2008 ANTI-
1. Dig, Lazarus, Dig!!! 4:11
2. Today's Lesson 4:41
3. Moonland 3:53
4. Night of the Lotus Eaters 4:53
5. Albert Goes West 3:32
6. We Call Upon the Author 5:11
7. Hold on to Yourself 5:50
8. Lie Down Here (& Be My Girl) 4:57
9. Jesus of the Moon 3:22
10. Midnight Man 5:06
11. More News from Nowhere 7:58