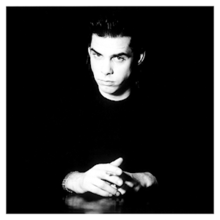 7/10
Nick Cave's second album starts with a tale of the dark, thunderous night Elvis Presley was born on the heels of his stillborn older twin.
The Firstborn Is Dead
. After such a rumbling, percussive start,
The Firstborn Is Dead
is a little bit...dead. After all the manic energy and chaotic glee of
From Her to Eternity
,
The Firstborn Is Dead
seems a bit tired and rote. It's not bad by any means, it is certainly listenable, but there is a noticeable lack of momentum. If Cave was trying to put his first album behind him with the title of this one, he only served to highlight
Eternity
's far livelier mood. So what you get here is musically similar to the debut: minimalist guitar played by a guy who approaches the guitar like an alien artifact. Mostly driving, pounding drums. A liberal amount of piano and unusual sounds. Strong bass-playing. Cave sometimes singing, and sometimes shouting like a gremlin. It's all enjoyable enough, yet the whole affair is strangely...muted. Get it? Mute Records? Get it? Ugh.
1985 Mute Records
1. Tupelo 7:17
2. Say Goodbye to the Little Girl Tree 5:10
3. Train Long-Suffering 3:49
4. Black Crow King 5:05
5. Knockin' on Joe 7:38
6. Wanted Man (Bob Dylan and Johhny Cash cover) 5:27
7. Blind Lemon Jefferson 6:10