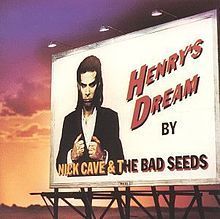 8/10
Nick Cave and the Bad Seeds return with an album of...aggressive, acoustic rock? Gone are most of the more theatrical, Gothic tones. No more vast, sometimes nighmarish landscapes. In their place is a bare-bones acoustic rock sound, driven by Mick Harvey's razor-sharp playing. With a full-time bassist and keyboard player added to the rotation, Harvey is freed up to focus more on his given instrument.
The Good Son
had some acoustic-guitar work, but Harvey seems to completely forgo the electric guitar on this album. This leaves nothing electric but Blixa Bargeld's extremely minimalistic electric guitar noodling, some keyboard, and the bass. Admittedly, this particular sound doesn't fit in my
Nicsperiment's Favorite Kinds of Music Wheelhouse
(What exactly is a wheelhouse? Is it a house made of wheels? A house full of wheels? Limits to what one can drive? Words are so confusing!). With that said, Cave and his bunch manage to keep up a nice frenetic pace, yet are wise enough to add some tempo and emotional variations, particularly in the lovey-dovey "Straight to You," the trippy "Christiana the Astonishing," and the emotional "Loom of the Land." Lyrically, Cave doesn't make as much a departure,
Henry's Dream
seeming to consist of a rough-and-tumble town, where a wrong step leads to a knife in the belly.
Kid Congo Powers Sighting:
Alas, we've seen the last of Kid Congo Powers. The Kid cannot remain in one place for too long. You can't cage the Kid.
1992 Mute Records
1. Papa Won't Leave You, Henry 5:54
2. I Had a Dream, Joe 3:43
3. Straight to You 4:35
4. Brother, My Cup is Empty 3:02
5. Christina the Astonishing 4:51
6. When I First Came to Town 5:22
7. John Finn's Wife 5:13
8. Loom of the Land 5:08
9. Jack the Ripper 3:45