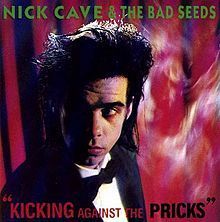 6/10
This cover album (NOT album cover!) and its significance are pretty ease to describe. These covers are all serviceable. At times they are full of menace, but the menace never has a payoff. This isn't always a bad thing. The constant tension without release in "Hey Joe," for instance.
It's okay that the gun never goes off in one song, but an entire album with little in the way of catharsis is a little hard to stomach. The minimalistic instrumentation (particularly in the vein of Blixa Bargeld's "I'll play when I feel like it" guitar-style) just doesn't allow for much in the way of payoff, at least not the way Cave and his crew are employing it in 1986. So the album is enjoyable only to the degree that it brings a little joy. It does, however, reveal the fact that Nick Cave can actually sing, and it also introduces Thomas Wydler on drums, complementing the bass to give the band an honest to God rhythm section (no more ghoulish banging). So
Kicking Against the Pricks
: decent album,
named after a Bible verse
, far from Nick Cave's best work, portends a bright future, makes for a short review.
A PERSONAL NOTE:
Back in the day, when I was attempting to fill out my Nick Cave and the Bad Seeds collection, the otherwise reliable Compact Disc Store on Jefferson never had the Nick Cave albums I wanted--but, they ALWAYS had
Kicking Against the Pricks
. R.I.P. Compact Disc Store.
1986 Mute Records
1. Muddy Water 5:15 (originally by Phil Rosenthal)
2. I'm Gonna Kill That Woman 3:44 (originally by John Lee Hooker cover)
3. Sleeping Annaleah 3:18 (originally by Mickey Newbury, Dan Folger)
4. Long Black Veil 3:46 (originally by Danny Dill, Marijohn Wilkin)
5. Hey Joe 3:56 (originally by Billy Roberts)
6. The Singer (a.k.a. The Folksinger) 3:09 (originally by Johnny Cash, Charlie Daniels)
7. All Tomorrow's Parties 5:52 (originally by Lou Reed)
8. By the Time I Get to Phoenix 3:39 (originally by Jimmy Webb)
9. The Hammer Song 3:50 (originally by Alex Harvey)
10. Something's Gotten Hold of My Heart 3:44 (originally by Roger Greenaway, Roger Cook)
11. Jesus Met the Woman at the Well 2:00 (Traditional)
12. The Carnival Is Over 3:16 (originally by Tom Springfield)