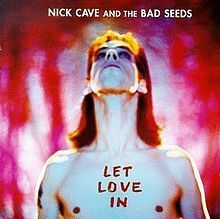 10/10
One look at the album cover for
Let Love In
clues the listener that they are in for something different: an unsettling photo of a naked Nick Cave, the album title written in red on his chest, his face turned skyward toward the band name, against a striking red background. None of Cave's album covers to this point have been nearly as impressionistic.
Full disclosure:
Let Love In
introduced me to Nick Cave. More specifically, a late night, summer of '97 viewing of the film Scream, featuring
Let Love In
's "Red Right Hand," introduced me to Nick Cave.
That one little foreboding scene is my favorite of the entire film. The atmosphere created by the music is brilliant, creating the tension of oncoming darkness, but cool as...well by definition, hell is not cool, but you get my drift. At first I thought I was hearing an old song by the Doors, but when the song popped up on The X-Files VHS set I received for Christmas (from the episode "Ascension"), I finally decided to do some research. The rest is history.
"Red Right Hand" might be the song of Nick Cave's career, and in my opinion,
Let Love In*
is (perhaps among a few, but we'll get to that) his landmark album. It is the archetype of what I (most likely unfairly) want every Nick Cave album to sound like. I guess this is the point in the review where I should finally start talking about it.
Let Love In
takes the dark, Gothic leanings that have cropped up in previous Cave albums and makes them explicit. "Do You Love Me?" kicks the album off with the Bad Seeds sounding tighter and fuller than ever. Gone are the minimalistic trappings that sometimes hampered previous outings. "Do You Love Me?" is fun and scary and intense and sets the mood immediately. "Nobody's Baby Now" fakes the listener out that it might be safe to come out now, the arrangement comparatively gentle, though the lyrics dreary. Then "Loverman" roars onto the scene, alternating between the creeping, bell-accentuated verse,
there's a devil waiting outside your door
(
How much longer?
, guitarist Blixa Bargeld deeply intones), before all hell breaks loose in the chorus, the Bad Seeds banging away like a band possessed--
--then they rip into "Jangling Jack" likes dogs into raw meat. This all leads into the centerpiece, the previously mentioned "Red Right Hand." I hate to use a phrase as mundane as "the previously mentioned" in regard to "Red Right Hand." The song is an absolute classic. It is in the cannon of Western musical history. The bass line is paradigmatic. The organ phrases drill directly into the listener's imagination. Cave's disquieting lyrics, about a dark stranger on the outskirts of town...on the outskirts of your mind, along with his vocal performance, fuse to the brain. This is one of the greatest songs of all time. I haven't even mentioned the organ solo in the middle of it, but I've said enough.
Instead of going downhill from its highest peak,
Let Love In
refuses to leave the lofty heights. The title track follows with a bit of a Western flavor, still dark, and with a steady feeling of inevitability. "Thirsty Dog" leaps back into the violent fray started by "Loverman" and "Jangling Jack." Then there's "Ain't Gonna Rain Anymore."
"Ain't Gonna Rain Anymore" introduces Nick Cave fans to Warren Ellis' haunting violin. His sound fits so well, that a few years later, he'd be contributing to the Bad Seeds as much as anyone. This slow, uncompromisingly unsettling song is darker than black, making the alternative to rain seem an unspeakable horror.
"Lay Me Low," a slower, more chilled out song lightens the mood like the eye of a hurricane for someone who's never been in one. This leads directly into the closer, "Do You Love Me? (Part 2)."
This much-altered reprise of the opening track is, in my opinion, one of the most haunting songs ever recorded. "Do You Love Me (Part 2)" calls directly back to the beginning of the album, but Ellis' violin (in its second appearance on this album) fills it full of ghosts. According to
this Nick Cave fan-site
, the song, inspired by a story written by novelist, Peter Straub, is about child abuse. The mental-searing lyrics, and dense, hypnotic, atmospheric imagery, are unforgettable. As is this album.
Let Love In
is Nick Cave's first masterpiece. If you haven't heard it, and if you have an imagination, and if you don't mind getting your feet a little dirty, you need to put this on your bucket list, and dump it on your head.
1994 Mute Records
1. Do You Love Me? 5:56
2. Nobody's Baby Now 3:52
3. Loverman 6:21
4. Jangling Jack 2:47
5. Red Right Hand 6:10
6. I Let Love In 4:14
7. Thirsty Dog 3:48
8. Ain't Gonna Rain Anymore 3:46
9. Lay Me Low 5:08
10. Do You Love Me? (Part 2) 6:12