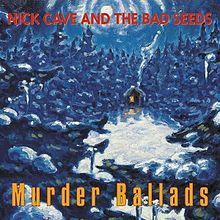 10/10
Have mercy on me, sir
Allow me to impose on you
I have no place to stay
And my bones are cold right through
I will tell you a story
Of a man and his family
And I swear that it is true
Ten years ago I met a girl named Joy
She was a sweet and happy thing
Her eyes were bright blue jewels
And we were married in the spring
I had no idea what happiness and little love could bring
Or what life had in store
But all things move toward their end
All things move toward their their end
On that you can be sure
La la la la la la la la la la
La la la la la la la la la la
Then one morning I awoke to find her weeping
And for many days to follow
She grew so sad and lonely
Became Joy in name only
Within her breast there launched an unnamed sorrow
And a dark and grim force set sail
Farewell happy fields
Where joy forever dwells
"Hail horrors hail"
Was it an act of contrition or some awful premonition
As if she saw into the heart of her final blood-soaked night
Those lunatic eyes, that hungry kitchen knife
Ah, I see sir, that I have your attention!
Well, could it be?
How often I've asked that question
Well, then in quick succession
We had babies, one, two, three
We called them Hilda, Hattie and Holly
They were their mother's children
Their eyes were bright blue jewels
And they were quiet as a mouse
There was no laughter in the house
No, not from Hilda, Hattie or Holly
"No wonder", people said, "poor mother Joy's so melancholy"
Well, one night there came a visitor to our little home
I was visiting a sick friend
I was a doctor then
Joy and the girls were on their own
La la la la la la la la la la
La la la la la la la la la la
Joy had been bound with electrical tape
In her mouth a gag
She'd been stabbed repeatedly
And stuffed into a sleeping bag
In their very cots my girls were robbed of their lives
Method of murder much the same as my wife's
Method of murder much the same as my wife's
It was midnight when I arrived home
Said to the police on the telephone
Someone's taken four innocent lives
They never caught the man
He's still on the loose
It seems he has done many many more
Quotes John Milton on the walls in the victim's blood
The police are investigating at tremendous cost
In my house he wrote "his red right hand"
That, I'm told is from Paradise Lost
The wind round here gets wicked cold
But my story is nearly told
I fear the morning will bring quite a frost
And so I've left my home
I drift from land to land
I am upon your step and you are a family man
Outside the vultures wheel
The wolves howl, the serpents hiss
And to extend this small favour, friend
Would be the sum of earthly bliss
Do you reckon me a friend?
The sun to me is dark
And silent as the moon
Do you, sir, have a room?
Are you beckoning me in?
La la la la la la la la la la
La la la la la la la la la la
I though about just leaving what is above this and calling that the review, as it speaks for itself, but this album is far more multi-faceted than meets the eye, and I feel I have to say something...but I'll be brief. Obviously, by the title, these ten songs are about murder. From most other artists, this would make for a one-dimensional, and somewhat sadistic product. However, under the guidance of Nick Cave, these songs are more than anything, human. Generally, the songs' victims are just looking for love or to remedy their loneliness...in exactly the wrong places. Or maybe the song focuses on the murderer--maybe they are out for the very human act of revenge(we are the only creature that partakes in such a thing), as in "Crow Jane." Maybe the murderer is an extreme narcissist, like the constantly posing mass murderer of the show-stopping fourteen minute album climax, "O'Malley's Bar" (that guy would love our selfie-culture). Maybe the murderer is just, to quote Scully in a recent X-Files revival episode, "batcrap crazy," as is the killer in the demented jig, "The Curse of Millhaven." Even in songs from the darkest of perspectives, like that of the narrator of "Song of Joy," which is quoted in its entirety above, there is such a literary, classic-storytelling approach, a certain sensitivity can't help but shine through. Even in "Stagger Lee," the most vulgar song of Nick Cave's career, there is a sort of chuckling disbelief at play that transforms the song from exploitation to revelation.
Whatever lyrical and vocal decisions Cave makes, the Bad Seeds are there to paint his words with sound. "Song of Joy" ably conjures the dark moors of its setting with a dense, atmospheric arrangement that includes a piano line so idiomatic, it feels like it has always existed. If a song needs to have a swagger, ala "Stagger Lee," you can bet the bassist has laid down a bass-line so hypnotically rhythmic, even Oliver Cromwell could get down to it. If the arrangement needs to feel gentle and classical, such as the Kylie Minogue-duet, "Where the Wild Roses Grow," the band are fit and able to the task. If dark, windswept mystery is needed, such as in the Gothic rush of "Lovely Creature," the band become it. Perhaps most impressively, the Bad Seeds are able to find some sensuality in the darkness. I'll close with this video, featuring Nick Cave and PJ Harvey performing their duet, "Henry Lee," which proves that two adults clothed entirely to the throat can be far sexier than any ex-Disney Channel pop-aspiring starlet prancing around in barely nothing.
1996 Mute Records
1. Song of Joy 6:47
2. Stagger Lee 5:15
3. Henry Lee (featuring PJ Harvey) 3:58
4. Lovely Creature 4:13
5. Where the Wild Roses Grow (featuring Kylie Minogue) 3:57
6. The Curse of Millhaven 6:55
7. The Kindness of Strangers 4:39
8. Crow Jane 4:14
9. O'Malley's Bar 14:28
10. Death Is Not the End (featuring PJ Harvey, Kylie Minogue, Anita Lane, and Shane McGowan) 4:26 (originally by Bob Dylan)