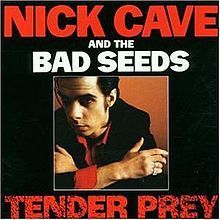 8/10
Tender Prey
storms out of the gate with the relentless "The Mercy Seat," a driving, harrowing song about a death row inmate, headed to the chair, who's "
...not afraid to die
." As soon as that's done, the listener is introduced to another criminal on "Up Jumped the Devil," this one doomed at birth, and backed by a shuffling, yet heavy beat..."
down we go
" he repeats to a piano line so irresistible, someone jumping into the song too late might not realize that the "we" consists of the narrator and the titular devil. While
Tender Prey
's Wikipedia page notes Nick Cave's dislike of the album's topical inconsistency, it's pretty clear that the "tender prey" are humans, and that that which preys on them is ol 'Nick. "Deanna," which sounds like a gospel song sung by a horny demon, follows suit, informing Deanna that "
I ain't down here for your love or money/I'm down here for your soul
."
"Mercy," the album's centerpiece, bucks the trend, a desperate prayer from John the Baptist, but the devil gets a name-drop anyway.
Hey, did I mention these songs are really good? While I don't think anything quite matches the Gothic storytelling of his previous album's "The Carny," nearly every song comes close. Cave is now not only firmly marrying his storytelling skills with the dark, ribald atmosphere he's been cultivating all along, but with strong song-writing, as well. Befitting the nature of this album, this is a dysfunctional, plural marriage, but one which strangely works.
Side two continues the tales of folks chased by the devil and his ways, ending with the optimistic "New Morning," though the 1988, high as a kite, quite predatory-sounding himself Cave can't help but inject a little malice into "
There'll be a new day/and it's today/for us
," soaring harmonica notwithstanding.
Kid Congo Powers Sighting:
There's a guy credited on this album by the name of "Kid Congo Powers." Yes. Kid Congo Powers. His contributions include "guitar" and "backing vocals."
1988 Mute Records
1. The Mercy Seat 7:18
2. Up Jumped the Devil 5:16
3. Deanna 3:45
4. Watching Alice 4:01
5. Mercy 6:22
6. City of Refuge 4:48
7. Slowly Goes the Night 5:23
8. Sunday's Slave 3:40
9. Sugar Sugar Sugar 5:01
10. New Morning 3:46