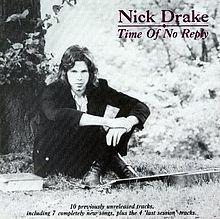 8/10
Time of No Reply
is a posthumous collection of unreleased material by Nick Drake. Some of the songs are new, and some are just home-recordings or alternate versions of previously released songs. I'll be frank, or rather, I'll be The Nicsperiment, and admit that I like this collection of songs more than
Bryter Layter
. In other words, I like this mix of toss-offs more than I like one of Nick Drake's heralded full-lengths of original material. Maybe that's just because
Time of No Reply
does not include "Poor Boy," though I think it more likely that it's because
Time of No Reply
features some really stunning work.
The opening title-track, an apparent cast-off from
Five Leaves Left
, is classic Drake. The song offers Drake's bleak, yet strangely comforting perspective, feeling alienated as he lends a lovely guitar line to his plaintive vocals. The lack of accompaniment is reminiscent of Drake's much praised swansong,
Pink Moon
. "I Was Made to Love Magic" follows. I know the song has its fans, but the chorus melody, which features Drake sort of holding onto the syllables too long, is off-putting. To me, it's the "Poor Boy" of the album.
Next is "Joey" another excellent Drake-only track, followed by "Clothes of Sand." I've heard that Drake took inspiration for "Clothes of Sand" from a North Saharan acid trip. That would explain the psychedelic lyrics, but the song, with its dark, subtle guitar, and Drake's melancholic vocals, is surprisingly emotional. It's one of my favorites in his catalogue.
The next handful of tracks feature some lo-fi home-recordings of songs both previously-released and not. I love this even more vulnerable rendition of "Fly," as well as the bluesy, timeless "Been Smoking Too Long," which sounds like it could have been made at any point since the guitar and recording device were invented.
Time of No Reply
ends with four of the last songs Drake recorded. Like most of
Time of No Reply
, the songs are stark, vocal and guitar-only tracks. This last quartet truly sounds like the work of a man who knows he is about to leave this Earth. I wish this dude could have found a reason to live.
1987 Hannibal
1. Time of No Reply 2:52
2. I Was Made to Love Magic 3:08
3. Joey 3:04
4. Clothes of Sand 2:32
5. Man in a Shed 3:02
6. Mayfair 2:28
7. Fly 3:35
8. Thoughts of Mary Jane 3:42
9. Been Smoking Too Long 2:13
10. Strange Meeting II 3:32
11. Rider on the Wheel 2:30
12. Black Eyed Dog 3:20
13. Hanging on a Star 2:42
14. Voice from the Mountain 3:40