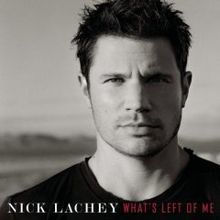 You Cannot Purchase this Engagement Ring Because You Don't Have Any Credit/10
Let me start this off with a caveat: I'm sure Nick Lachey is a nice guy. He seemed amiable enough to poke fun at himself in this recent Foo Fighters fake
"Breaking Up" announcement
. With that said, I have no interest in actually reviewing his album,
What's Left of Me
, here, and I am only using it to tell a story.
In May of 2006, my girlfriend wanted me to buy her the new Nick Lachey album. "Why would anyone want to by an album by Nick Lachey (sorry Nick Lachey)" I asked? Also, "Why am I dating someone who wants me to buy them Nick Lachey albums?" But alas, my love was deep. I bought said girlfriend the new Nick Lachey album. I then decided that I wanted to marry someone who wanted me to buy them Nick Lachey albums, so I made up my mind to drive to New Orleans to buy an engagement ring.
I broke the news of my impending engagement to my good friend
Jon
, who responded with the remark "You guys are probably, like, making out
all
the time, huh?" I immediately invited Jon to New Orleans to buy the engagement ring with me.
The problem with buying expensive stuff, though, is that if you can't afford to buy the whole thing at once, they want to check your credit. The problem with being a barely employed farmer's son from the middle of God's nowhere is that you don't have any credit.
Jon and I, despite making such a distant trip, found we could not purchase the ring, and we drove home in silence, dejected.
Then, I saw it. The only thing that could possibly cheer me up in this situation.
Nick Lachey's
What's Left of Me
.
Who knows about having your hopes and expectations smashed and broken?
Nick Lachey.
Who knows about having to reformulate your plan and try again?
Nick Lachey.
"Hey, Jon," I said. Let's mourn Nick Lachey and Jessica Simpson's marriage."
"What?" he asked.
"I don't know," I said. "The Aristocrats?"
We then proceeded to listen to Nick Lachey's
What's Left of Me
the entire 90-minute ride home, holding up the lyrics booklet so that we could belt them out euphorically.
Last week, I went to see The Legend of Zelda: Symphony of the Goddesses, and I'm sorry I didn't tell you about that because that was awesome. Since the concert was in New Orleans, and I realized I was reaching "La" in this review series, I attemptied to recreate the
What's Left of Me
experience on the ride home.
Unfortunately, I had to eject
What's Left of Me
by track four. It is not very good. Bland, acoustic pop-rock from the middle-00's is not very interesting, and certainly not something to keep one awake on a late night drive. One need only look at the amount of co-writers for each song below to see why this album doesn't have much personality.
But hey, for one glum spring afternoon, Nick Lachey lit up my life.
Thanks, Nicky!
And with that, the series of reviews of artists named after The Nicsperiment comes to a close.
2006 Jive
1. What's Left of Me (Jess Cates, Emanuel Kiriakou, Nick Lachey, Lindy Robbins) 4:06
2. I Can't Hate You Anymore (Cates, Lachey, Robbins, Rob Wells) 3:54
3. On Your Own (Luke McMaster, Wally Gagel, Xandy Barry) 3:06
4. Outside Looking In (Cates, Lachey, Dan Muckala, Robbins) 3:20
5. Shades of Blue (Muckala, Liz Vidal) 4:18
6. Beautiful (Peer Åström, Anders Bagge, Andreas Carlsson, Lachey) 3:34
7. Everywhere But Here (Greg Johnston, David Martin, Rob Wells) 3:29
8. I Do It for You (Astrom, Bagge, Carlsson, Lachey) 3:23
9. Run to Me (Cates, Lachey, Muckala, Robbins) 3:32
10. Ghosts (Jamie Cullum, Kara DioGuardi, Greg Wells) 4:10
11. You're Not Alone (Astrom, Bagge, Carlsson, Lachey) 3:43
12. Resolution (Cates, Lachey, Robbins, Rob Wells) 3:55