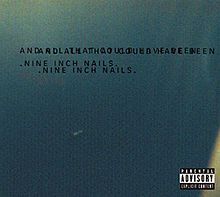 8/10
Still
is a personal favorite of mine. It was originally packaged with a live album from The Fragile Tour, but Nine Inch Nails, aka Trent Reznor, made the rather wise decision to sell it separately, as well. I can count the number of live albums I've purchased on one hand.
Live
isn't one of them, and
Still
went completely under my radar. Ironically, the below video came up as "recommended" on Youtube one day when I was listening to something else.
I was shocked to hear that this was Nine Inch Nails. I knew Trent played the piano, but had no idea he'd put out anything like this.
Still
is a nine-song collection of re-worked previously released tracks, as well as newly released instrumentals. The piano or keyboard is the heart of each of these songs, outside of the guitar-based "And All That Could Have Been."
With that summation out of the way,
Still
's re-recorded songs may not feature the loud power of the originals, but they make up for that by sounding more vulnerable. That's not to say these re-recordings are all quiet...they can be quite intense at times. However, their more minimal arrangements--far more acoustic and organic than the originals--reveal something new in Reznor's voice. Obviously, he has conveyed pain and anger quite well in the past, but here there's regret and dare I say a wistfulness to his singing that wasn't apparent before. Maybe that's because his vocals are presented in such a raw, unpolished, and naked fashion.
For me, though, the standouts here are the instrumentals. The first two, "Adrift and at Peace," and "Gone Still" contain a floaty, airy feeling that's magnificently contemplative. My favorites, however, are the latter duo, album closers "The Persistence of Loss" and "Leaving Hope."
"The Persistence of Loss" begins with a low-octave piano line, and gradually adds in more instrumentation until the listener can feel the entire weight of the Earth's sorrow on their shoulders. That's hyperbole for some, but it's how I feel when I hear it--since I am an over-dramatic person, prone to depression, it's certainly not hyperbole for me. There's this low whistle Reznor introduces in the song's final minute that sounds like God calling to his creation through 600 miles of crushing ocean. By the way, I am currently listening to
Still
and writing this while in the midst of a crushing migraine (
Editors Note. It lasted well through the night and into the next day
).
"Leaving Hope," is full of subtle, crackling power, and gives me this resigned feeling, like I am walking into the face of death, and I know I could have maybe done things better, but I did indeed do them, and now it seems like everything is over, and that might be okay.
Sorry for all the abstract bullshit.
2002 Nothing
1. Something I Can Never Have 6:39
2. Adrift and at Peace 2:52
3. The Fragile 5:12
4. The Becoming 4:30
5. Gone, Still 2:36
6. The Day the World Went Away 5:17
7. And All That Could Have Been 6:14
8. The Persistence of Loss 4:03
9. Leaving Hope