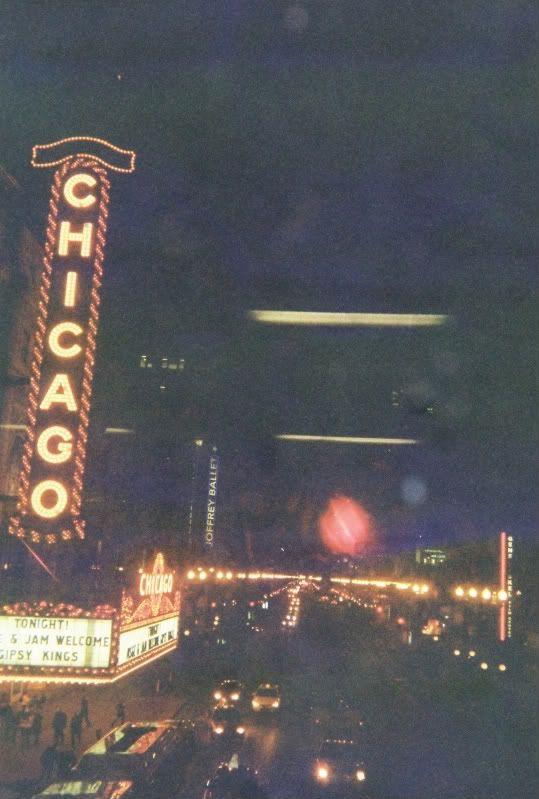 INTRO:
When I write a travelogue, I try to make it funny.
Raise your hands if you've nearly been responsible for the death of an elderly woman and her pregnant teenaged granddaughter. No? Come on, guys!
In January of 2000, for the first time in my life, I got a flat tire. Actually two. At the same time. At about midday, my journalism teacher sent me and several other dutiful students to attempt to get sponsors for FRA's school newspaper, The Gator Gazette, circulation 1,045,007. After taking advantage of my New Roads connections to fill our quota (and taking a detour so a couple of us could register to vote), we headed back to school, in a huge rush, of course. This kid in my backseat was rattling on about how his granddaddy had lip cancer for the second time, but was going to keep dipping anyway, and how proud he was of his granddaddy for doing this because if he got lip cancer he wouldn't stop dipping either. I started yelling at this kid for being an idiot, just as my car bounced over some railroad tracks...and exploded.
Actually, just the back tires exploded, loudly. I think this was supposed to be a sign to this dumb kid to not follow in his granddaddy's footsteps, but it also meant I had two extremely flat tires. We rolled into the school parking lot, then my friend Rob (there Rob, you made it to The Nicsperiment, and I even referred to you as Rob, as you are known by now, instead of Robbie, which you know is your real name) showed me how to change a tire. I say A tire because I only had one spare, so I then immediately drove nearly on the rim through some south Lousiana sleet to the local mechanic. They changed both tires for me, and by the time they were done I had an hour to rush home, eat, grab my Wal-Mart uniform and get to work.
Here's a suggestion for all you kids out there:
Don't work at Wal-Mart.
I had been working until nearly midnight every night and struggling to keep up with school and generally getting really worn out, so I found myself shaken from a bit of a daze when my gas empty light came on. Yes, I just ended that sentence with a preposition, and I'll do it again, so get used to it.
Anyway, I was about three miles from my house, and right in front of a gas station, so I put my blinker on to turn left, waiting for a large truck in front of me to move out of my way. After about a minute, the truck didn't move, so I tried to pull around it. Unfortunately, there was another car occupying the space I drove into. This car was occupying that space at about 50 miles an hour, and I think I heard the girl screaming over the sound of my car being demolished. Her car disappeared down the hill to my left, leaving me sitting in the middle of the lane, covered in spare change. I tried that trick where you say "this is not happening" a bunch to make time flow in reverse, but all it seemed to do was conjur an angry pregnant girl at my window, punching the glass and calling me words The Nicsperiment was more apt to use six or seven years ago.
After her grandmother pulled her away from my car, I stepped out into the now falling snow and looked down the hill. I saw a car resting inside a house's front porch, trailing skid marks. The skid marks ran back up the hill in the small space between a gas main and an electric pole. I have no idea how the girl guided her car between that space, but I assume divine intervention. And she and her grandma were fine and we all lived happily ever after.
Well, sort of. Turns out, the girl had just as crappy a job as me, tending the cash register at the New Road's McDonalds. We would both have to find rides to work and school for quite a while. When she saw the absolute terror in my face after the accident, though, she quickly forgave me. I paid her some visits at McDonalds over the next few months to check in on her, and I kept the clipping of her child's birth announcement (and that kid is about to turn 11, which is insane!). What does this have to do with the reason I just went to Chicago? Everything!
A few weeks after the accident, I went with a few other students to the quaint, conservative village of New Orleans, for a Physics competition at UNO. We took a school bus to the hotel with our teacher, the great white-haired one, Edith Atkinson, stayed overnight, and got our scientific formulas on the next day. Rob and I were a team, and we kicked butt, and I was on an extreme high when I saw a sign on the way back to the bus:
TONIGHT, DISMEMBERMENT PLAN, STUDENT UNION
My heart leapt. I loved The Dismemberment Plan. They were one of the few bands I could identify with in my 18 years. Unfortunately, I was about to take a school bus away from UNO, away from The Dismemberment Plan, and I had no vehicle in which to return. I could convince no one to take me back, so I spent the night in my room, imagining I was at the show, and convincing myself I would get another chance. A few years later, the Dismemberment Plan broke up, never visiting the swamps again. Over the next 11 years, a bunch of life happened to me and the members of TDP. This year, they have finally decided to do a short reunion tour. My cousin Adrian and I picked up tickets for the only show in our time zone, Chicago. This is a travelogue of our 3-day journey.
I hope you enjoyed this intro. I wish "intro" was a preposition. A preposition is something I wanted to end on.

DAY ONE:
When a plane loads its passengers, the first call on the intercom is often for children traveling alone. When the attendant made that call this time, I actually started to stand up. I've never been on a plane by myself before, and though I've got three decades behind my belt, not allowing me to board first was a great injustice by Southwest, the evil likes of which will never be forgiven. The nerve of those people. Because of this, I didn't know when I was supposed to get on and was quite fearful that they hated me and would never let me on their awesome jet plane, but they did and I took a pitcher:
SUPRISE!!! This whole post is just one big advertisement for Southwest.com. Southwest Airlines: Just Plane Smart(TM)
They tell me that this is a river below the wing, but I know the truth. Giant Blue Snakes crisscross and control our country, flowing righteous blue fists ruling our nation at an efficiency our human minds can neither comprehend nor maintain ourselves. All hail the Giant Blue Snakes.
SUPRISE!!! This whole post is just one big advertisement for Giant Blue Snakes. Giant Blue Snakes: Just Plane Smart(TM).
Anyway, after watching the terrain grow ever icier, we touched down. My first cousin, Adrian, who arrived on an earlier flight, met me in the airport. Adrian is the #14 ranked eater in the world. Don't believe me?
Click here.
Ooh. Showed you. Now you can never doubt anything I say.
Adrian and I were starving, so instead of checking in at the hotel, we headed straight for
Kuma's Corner
, a Heavy Metal Bar rumored to have the best burger in Chicago. We reached Kuma's with empty stomachs at about 4:15 pm, expecting an hour and a half wait. Upon entering, the hostess, shouting over the deafening double-bass and riffing blasting out of the above-bar speakers, said that the wait was three-and-a-half-hours. Do you put dashes there? I can never tell. Anyway, I set down my suitcase (Adrian did not pack one), and we took off our backpacks and coats and set in for the long haul. Two things became apparent after a few minutes of sitting:
1. If you stand behind people eating at the bar for long enough and get friendly with them, they will give you their seats when they get up.
2. The hostess says there will be a three and a half hour wait so that people will leave. That's right. Kuma's Corner is so good, they have to attempt to convince people NOT to eat at their restaraunt.
The hostess' shift ended and a new girl took over. She immediately appeared to discard the guest list and began seating people as they came in. An hour passed. After two or three just-arrived parties were seated before us, I walked up to the hostess, punched her so hard in the face that my knuckle-hair imprinted on her forehead, and asked her what the deal was.
"Ow," she said. "Okay, okay, you'll be seated next."
Next never came, so when some people we had been buttering up at the bar left, they gave us their seats. After standing for two hours and reading several pages of the
book I brought with me
, I was ready to sit. We placed our order with the friendly, heavily-tatooed waitress known as
Vendetta
and waited for our food. I selected the Led Zeppelin, a burger loaded with pulled pork, bacon, cheddar, and pickles. Adrian picked the Lair of the Minotaur, which features Carmelized Onions, Pancetta, Brie, and Bourbon Soaked Pears. We also ordered their homemade Macaroni and picked Mushrooms and Andouille Sausage as our toppings (you can pick two).
There were no survivors.
I couldn't really distinguish the quality of the burger beef because of the sheer quantity of toppings. There was at least as much pulled pork as there was burger patty (and there was a lot of burger patty). That said, all the flavors came together nicely, and it was pretty danged (dang? dang-ered?) delicious. The macaroni, topped with green onions and paprika, was some of the best I ever ate, and it was pretty to look at as well. The waffle fries at first seemed too crispy and overcooked, but this was an underestimation on my part, as I found myself completely unable to stop eating them. I want some right now so bad, my fingers are wet from all the drool on the keyboard, and that is just disgusting. Someone needs to bring me some fries to stop this salivorial calamity. Then my fingers will just be covered in grease and salt.
Though it was 7:15 by the time we left our empty plates on the counter, we had no regrets. If you are in Chicago and have the time, go to Kuma's. In fact, just make the time, or I will leave impressions of my knuckle-hair on your forehead. Please do not construe that as a threat--I am only trying to help you.
I then rolled my suitcase over dirty streets and ice as we searched for dessert, finally settling on Chicago Legend,
Margie's Candies
, which shone like a beacon in the dark Chicago night...
Just kidding, night in Chicago is actually brighter than daylight in Des Moines, Iowa. I am still putting lotion on my "moonburn."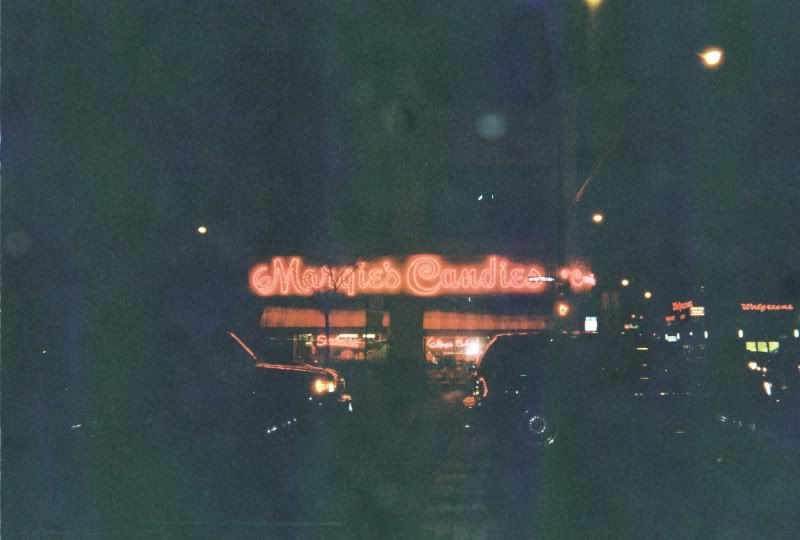 This place was awesome. They had all kinds of fattening things that taste good to eat (doing so will no doubt please our Blue Snake Overlords), and picking something was almost impossible. I ended up ordering a Green River Ice Cream Soda because it sounded nostalgic, and this is definitely the kind of place that breeds nostalgia. I now know that
Green River
is a very old soda that has recently experienced a resurgance. Also, it looks like nuclear waste. Don't believe me?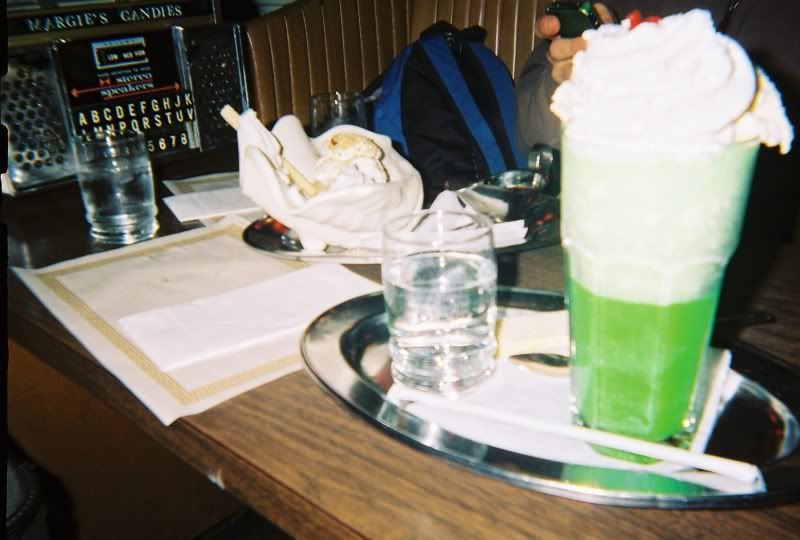 Thankfully, it tastes less like nuclear waste, and more like delicious. I refuse to use the Rachel Ray fabrication "delish." That is just dumb. Anyway, Green River tastes like high class sprite, and the ice cream and whipped cream tossed into it were high quality as well, meaning a couple of minutes after I took this picture there was only foam left in the glass.
Taste-buds satisfied (though our hunger is never satiated), we headed for our hotel, Four Points by Sheraton. When the woman behind the counter looked at her computer screen for ten minutes, gave us free water, and disappeared, we assumed something was wrong. Something
was
wrong. The hotel accidentally gave away our room, and they were completely booked. They shuttled us across the street to a free suite at
the James
, which was uh...kind of nicer than the room we originally booked. Our original room had a king bed because it was a lot cheaper than two twins. Considering Adrian and I have shared a bed about a million times since we were toddlers, this was worth saving a few bucks.
We heard bumping techno music before entering the James. As we walked into the lobby, we had to side-step a huge crowd of extremely well-dressed people with drinks in their hands. The hotel clerk, a slightly Eurotrash guy in a suit probably more expensive than my car, gave us the immediate feeling that we were underclassed for the establishment.
"I see you had a king bed at Four Points," he said. "We would give you two twins here if you wanted it, but we do not have such a room available. Only a suite with a king bed."
"That's fine," I said. "We're first cousins. We've slept in the same bed since we were little kids."
He looked down at the wedding ring on my finger, then at both our faces, pursed his lips and smiled.
"I won't tell your awnt. You two have fun."
Awesome.
By the way, I know how to spell "aunt," but he pronounced it the fancy "awnt" way.
After having passionate, homosexual, incestuous relations, Adrian and I looked at our new room in disbelief.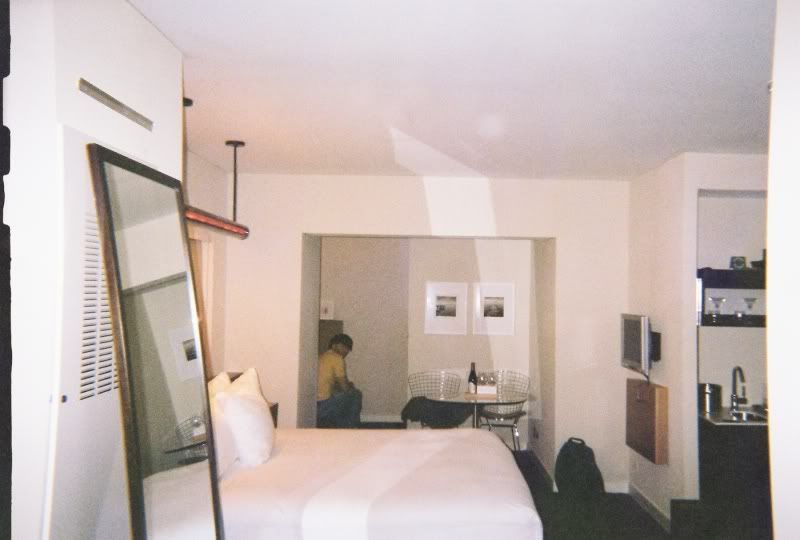 Here is Adrian, sitting on some weird giant European Sofa trying to figure out how to work the movie projector. Yes, our room had a movie projector, Bose surround sound, and a DVD player. We selected the horror remake,
Quarantine
, from a dozen or so films in a box. This movie isn't bad if you enjoy a movie about a highly mutated strain of rabies where people who contract the rabies are quickly overcome by the rabies and attack other people because of the rabies and spread the rabies until everyone is either dead or has the rabies because the rabies is rabies that is rabies contracted by bodily fluids. Rabies.
That night I was so tired I fell asleep on top of the bedsheets wearing all my clothes. I thought I would dream of rabies, but I didn't. So disappointing.