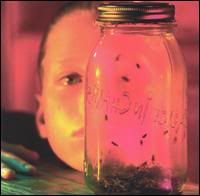 10/10
Layne Staley almost always took the blame for his actions in the lyrics he and Jerry Cantrell came up with, but at the same time, he was never apologetic. This probably helped Alice in Chains to be as listenable as they were (in their original form). This oxymoron is perfectly spelled out in what is arguably their best effort, and arguably one of the best EP's ever released,
Jar of Flies
. For the uninitiated who simply think of Alice in Chains as heavy, depressing music,
Jar of Flies
fits neither description, nor is it "grunge."
Jar of Flies
is more of an airy, atmospheric confessional. It starts off with the trademark low Alice in Chains guitar sound, but within seconds, a talkbox comes in to prove this is something completely different. There are far more delicately picked acoustic notes than electric power chords--the electric is mostly used for playing lead lines when it's used. Even the darker songs are filled with space to breathe. "Nutshell" spells out all of Staley's faults, and even includes the haunting line, "
Yet I find/repeating in my head/if I can't be my own/I'd feel better dead.
"
It's a really beautiful song, despite the depths it plumbs, but as soon as it ends, the mood lightens up considerably, even to the point that I would describe the music as fun. "I Stay Away" and "No Excuses" are both bouncy, happy songs, the former featuring soaring strings, and the latter as upbeat a rhythm as AIC ever played. "Whale & Wasp" is a lovely instrumental featuring interplay between a sliding electric guitar, picked acoustic, and strings (the whale gliding underneath). "Don't Follow" keeps the surprising pace, and features bluesy harmonica and singing, while closer "Swing on This" is literally a swing song--as interpreted by Alice in Chains. Of course the duality of this EP stays apparent throughout, especially in this closing song where Staley belts jauntily, "
Let me be, I'm alright/can't you see, I'm just fine/little skinny, okay/I'm asleep anyway
." At this point Staley was already wasting away from his heroin addiction, but his downplaying is almost believable, as if the shockingly good vibes emanating from this music are enough to sustain him. They do keep his memory alive and
Jar of Flies
timeless, but...
1994 Columbia Records
1. Rotten Apple 6:58
2. Nutshell 4:19
3. I Stay Away 4:14
4. No Excuses 4:15
5. Whale & Wasp 2:37
6. Don't Follow 4:22
7. Swing on This 4:05