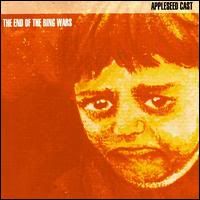 7/10

A couple years ago, I had the great pleasure of seeing The Appleseed Cast in concert. After the excellent show, my cousin, The Rabbit, and I had a conversation with Appleseed Cast frontman, Christopher Crisci. My cousin asked Crisci if the band ever played any songs from The End of the Ring Wars, AP's debut album, live. "No, man," Crisci said, "I don't know if kids today would get that style of music. Plus, it was kind of Sunny Day Real Estate worship, anyway." While
Crisci may have been right, and this album might not sound anything like every album The Appleseed Cast have released since, it has way too much real feeling to be dismissed.
This is illustrated beautifully in the first track, a standout of the band's career in my opinion. "Marigold & Patchwork"'s instrumental intro could easily be the soundtrack for a high school graduation. Actually, most of The End of the Ring Wars has that kind of vibe. Then, a minute and ten in, the guitars get crunchy, and Crisci's voice blasts victoriously from nowhere. The singing is very raw throughout this album, something Crisci hadn't mastered yet, but it works wonderfully on this track.

The tempo stays fast on the second track, the drums particularly fiesty, but things slow down on the third track, "On Sidewalks." The dynamic and mood changes often through the rest of The End of the Ring Wars--I guess this is why it was called "emo" back then. This makes for a lively, unpredictable listen, even when things bog down a bit in the third quarter. I should not fail to mention a saxaphone makes a few awesome appearances, most prominently on beautiful slow burn, "Stars," and the album closing, "Untitled 1," which somehow miraculously makes the answer to, "Can a saxaphone outside of a Bruce Springsteen song rock without being cheesy?" "Yes, definitely." Hiring a space alien with six arms to play drums on this track probably helped, as well. Also, could my sentences get any longer?
Overall, The End of the Ring Wars doesn't touch the greatness of The Appleseed Cast's subsequent releases, but's it's still quite a good listen.
1998 Deep Elm Records
1. Marigold & Patchwork 5:49
2. Anthero 3:55
3. On Sidewalks 3:40
4. Moment #72 3:06
5. Stars 3:57
6. December 27, 1990 2:20
7. The Last Ring 4:31
8. 16 Days 5:41
9. Dreamland 5:44
10. Portrait 4:44
11. Untitled 1 4:23
12. [Silence] 0:06
13. [Silence] 0:05
14. [Silence] 0:04
15. [Silence] 0:06
16. [Silence] 0:06
17. [Silence] 0:06
18. [Silence] 0:06
19. [Silence] 0:06
20. [Silence] 0:06
21. [Silence] 0:06
22. [Silence] 0:05
23. [Silence] 0:05
24. [Silence] 0:07
25. [Silence] 0:06
26. [Silence] 0:08
27. Untitled 2 2:45
Alright, so maybe I was wrong about the sax thing:
EPIC SAX GUY RULES !!!