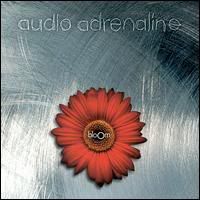 8/10
Now this is the Audio Adrenaline I remember! Real drums, dominant guitars, the keyboard only used as a backing instrument, and sweet bass lines. More importantly, Mark Stuart's voice. No rapping here, just good ole rock-and-roll singing. That great, gritty, emotive voice, stretching itself to the point that it's easy to see why it went out ten years later (the reason the band was forced to split). The music itself is a pretty good mix of 90's alternative and classic rock that still sounds just fine today.
Bloom
is not dated at all. This would all be for naught if the songs sucked, but they don't. Every song feels like a classic.
Bloom
could easily pass for a greatest hits package. Even the slower songs are great and highlight the huge uptick in lyrical quality between
Don't Censor Me
and
Bloom
. Check the honesty and vulnerability in "Man of God."
Listen to Audio Adrenaline's "Man of God"
Bloom is a 90's Christian Rock classic, and should definitely be placed in the "Holy Trinity" of mid-90's Christian Alternative albums along with DC Talk's
Jesus Freak
, Newboys'
Take Me to Your Leader
, and Jars of Clay's self-titled debut. Of course, then it would be a "Holy Quadrangle" right? Also, this album's humble attitude and gentle sense of humor would take issue with the descriptor "holy." Humility aside, there really aren't any good synonyms for "classic," which is why I keep using the word again and again. If you liked this in the mid-90's, you should visit it again for some completely shame-free nostalgia (shame-free because this CD is nothing to be ashamed of), and if you missed it, check it out and weep at the fact that the prevalance of quality Christian Alternative music will probably never again reach the peak it did in the mid-90's.
1996 Forefront Records
1. Secrets 3:42
2. Never Gonna Be as Big as Jesus 4:26
3. Good People 3:26
4. I'm Not the King 3:53
5. Walk on Water 3:51
6. See Through 4:58
7. Free Ride 3:22
8. Man of God 4:17
9. Gloryland 4:24
10. Jazz Odyssey 1:21
11. Bag Lady 4:09
12. I Hear Jesus Calling 3:22
13. Memoir 5:09