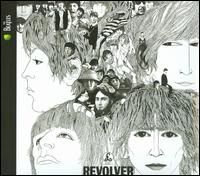 8/10
I read somewhere (and I wish I could remember) that
Revolver
is the sound of each individual Beatle peaking at the same time. I've read a lot of stuff similar to that, too, but I just can't get behind those statements.
Rubber Soul
sounded like all of the Beatles peaking at the same time, at the end of a first phase...
Revolver
sounds like a transition to the next one. Don't get me wrong, it's quite good, but in the present context of reality, based on the quality of each song, and each song flowing into the next, this isn't the greatest album ever made, and it isn't even the best of the first seven albums The Beatles recorded.
Revolver starts strong with "Taxman," which rocks harder than most of their previous songs. George Harrison really seems to be filled with confidence, blasting out jagged electric riffs, and belting lyrics that have absolutely nothing to do with romance. This is followed by the symphonic "Eleanor Rigby" with only strings backing Paul McCartney's vocals. It's clear by this point that The Beatles are, um...experimenting, as the next track "I'm Only Sleeping" features a backwards tracked guitar throughout, and the fourth, "Love You To" features only traditional Indian instrumentation. "Here, There, and Everywhere" would be a classic cheesy Paul ballad, but the melancholy melody of the song completely counteracts the lyrics. Same goes for "Yellow Submarine," which is a jaunty lullaby with a surprisingly sad underpining, perhaps due to Ringo's delivery (this is his only lead vocal on the album, but it's a good one). Then again, what kid wants to go to sleep?
Hey, speaking of Ringo, his drums sound great on the next track, "She Said, She Said," which finds Lennon doing more childhood introspection and coming up with trippy results.
The second side starts with McCartney's "Good Day Sunshine," which is an okay song, but kind of redundant at this point on the album. The arrangement is nice, the production is good, but it doesn't really add anything to the record--in fact, it kills the momentum.
"And Your Bird Can Sing" picks the momentum back up with it's electric swagger and rolling beat, but then McCartney's "For No One" grinds things to a halt again. Again, it's not a bad song, and the horns are nice, but it's like McCartney is on a different planet on this side of the album. He is lying under a tree taking a nap, not realizing that "I'm Only Sleeping" was seven songs ago. "Doctor Robert" picks up the pace again, but it's just not that good of a song, perhaps Lennon's only disappointment on
Revolver
. Things get back on track with George Harrison's "I Want to Tell You" (Harrison's tracks come close to owning this album). McCartney's "Got to Get You Into My Life" is delightfully raucous, yet his romantic lyrical aspirations are what knock
Revolver
down. Again, he sings about romance just like he did on the last six albums, while his bandmates seem to now be focusing on all aspects of life. It almost reaches a point where just hearing McCartney's voice kick off a
Revolver
track causes frustration--you know exactly what you are about to get. It's like the whole band is aching to get to some transcendant level musically, but only two are attempting to do so lyrically (Ringo don't count). Harrison and Lennon are looking at the whole scope of life, while McCartney is making googly eyes over their shoulders at some girl he sees. I can't remember if this ever gets better--I hope it does. McCartney proves on his first track here, "Eleanor Rigby," that he CAN do better, singing achingly about loneliness--so maybe that's why I am so disappointed with the rest of his lyrical output--and also why I am using so many dashes and the word "again" again and again.
Everybody else is more than solid, though, and Lennon's trippy closer, "Tomorrow Never Knows," proves that the Beatles are a great band, albeit one with members not quite on the same page.
Here, go eat some oreos:
Apple Corps 1966
1. Taxman 2:38
2. Eleanor Rigby 2:06
3. I'm Only Sleeping 3:00
4. Love You To 2:59
5. Here, There and Everywhere 2:24
6. Yellow Submarine 2:38
7. She Said She Said 2:36
8. Good Day Sunshine 2:09
9. And Your Bird Can Sing 2:00
10. For No One 1:59
11. Doctor Robert 2:14
12. I Want To Tell You 2:27
13. Got To Get You Into My Life 2:29
14. Tomorrow Never Knows 3:01