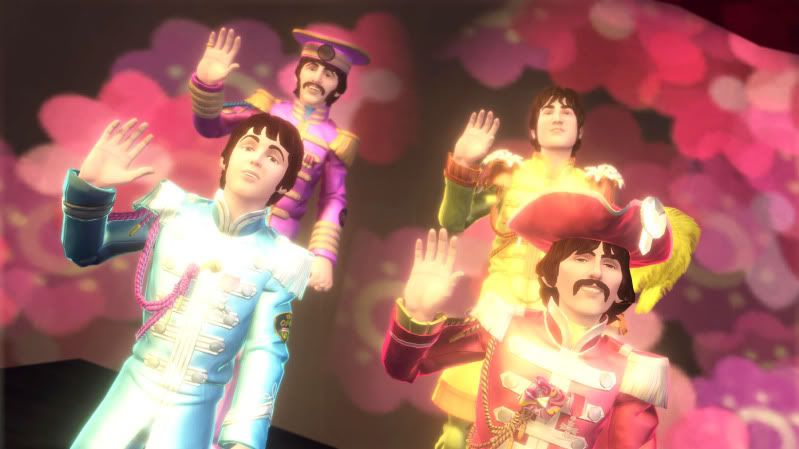 Nothing is real.
Well, that was intense. I've never been the type of person to go through phases. I like to think I'm a pretty well-rounded individual. Listening to almost nothing but one band for three weeks is something I'm completely foreign with. At times I felt like The Beatles were taking me hostage, even though I did this by choice. It probably did make me a little crazy, so in that spirit, here's an interview with me, by me:
With their moppet haircuts, those Beatles look like the Biebers of their day! The words even sound the same, so it must be so! Which Bieber...I mean, Beatle, is your favorite?
Ha. This is something I actually thought about while listening. Since I play all of the basic instruments The Beatles did, I didn't lean any particular direction based on that. The cool thing to do is say that George is your favorite. He seemed the most distant and chill, and he didn't put himself out there as much as the two front guys. Plus, when I was a kid, and my dad had a mustache, I thought they were the same person. It's no doubt that while George only wrote a small percentage of Beatles songs, he wrote some pretty good ones, especially near the end. His playing added a lot of soul to the band, as well, and his guitar solos always elevated the songs. The oddball, or even more leftfield hipster thing to do, would be to say that Ringo is your favorite. Obviously, he is wanting as a singer, and he only wrote two songs for The Beatles, both only decent. Also, his drumming isn't the most technically proficient work ever done. He did bring the perfect feeling to every song, though. He never overplayed, and he rarely underplayed. He was pretty darned good. The lame thing to say if you weren't a teenage girl at the height of Beatlemania is that Paul is your favorite. He wrote the poppier songs, and he has the most traditional appearance. Then again, the guy also wrote some geniunely weird songs, sometimes even more leftfield than John. Afterall, Sgt. Pepper and the Magical Mystery Tour were both his ideas! He was far more creative than he's often given credit for, and some of his songs are the best the band recorded. Then, of course, there's John, who most people like to claim as their favorite. The guy wrote a bunch of great songs, a bunch of weird songs, and he had the attitude most people think of when they think of The Beatles. Then again, without his Yoko dalliances, the band would probably still be together. Also, it seems that he could be kind of childish and petty. Actually, they all seem to have kind of been that way. They were in their early 20's, afterall, and they were certainly no role models. Musically, I don't think I could pick, so I would say that I like them all together, and not really very much on their own. I haven't been able to get into hardly any of their solo stuff (just a little bit of Lennon's), so I think it is obvious to say they were much better together than apart. Lennon kept Paul weird, and Paul kept Lennon grounded. They both assured that only the cream of Harrison's crop would rise to the surface. Ringo was back doing what he did best. Untethered, they just aren't the same. Also, two of them are dead.
Well, you just reviewed TWELVE albums! What Beatles album is your favorite?
I have to say, even though I gave Abbey Road a better score and like that album a whole heck of a lot, I really love Magical Mystery Tour. I don't know why I'm drawn to that one so much, but I think maybe I have a stronger childhood connection to it, and it kind of defines what The Beatles mean to me. It certainly makes me feel the best when I'm done with it.
Not a lot of comments. Did anyone actually read your Beatles reviews?
Shockingly, traffic more than doubled during these reviews. I was really worried interest would be low, but apparently people still google "The Beatles" almost as often as they google "Is Zach Braff a Scientologist" or "What is the difference between dubstep and techno?" They even google it more than "i want 2 c a narked vargina with penes incide," which sadly hasn't led anyone to The Nicsperiment in a while.
So are The Beatles the greatest band of all time?
That question is completely subjective. I reviewed 12 Beatles albums and only gave out one "10." I reviewed nine Appleseed Cast albums and gave three "10's." If I were to tell The Appleseed Cast that I thought they were better than The Beatles, they would probably slap me in the face.
Several times, probably.
Now what are you going to do?
Keep reviewing the letter "B." There's a ton of good stuff left, including Beck, Björk, Blindside, Bruce (I'm going in first name, not last name order, because that's how my Zune does it), as well as a bunch of lesser known stuff...it should be interesting...or it should be something.
You smell nice today. What is that?
Well, I don't generally wear cologne, as no particular scent really sticks to me. I am wearing Brut Stick anti-perspirant/deodorant, which is getting increasingly hard to find. I don't know why. I've been wearing it since I was twelve. It's awesome.
Interesting. Do you find that the things you enjoy are becoming more and more uncommon?
Yes, it is interesting. You know, I'm not sure if they're becoming uncommon any more than they're just becoming harder to find.
Huh. So is it an access issue? At a time where access to information seems almost unlimited?
Yes, you see, me, that's the problem. The good things just don't stand out anymore because they are completely swamped by everything else. Everything is exposed now, naked so to speak, and anyone can have it, it's just a matter of thumbing through the garbage...so to speak.
So, so to speak, are you still happy?
That's the goal, yes.