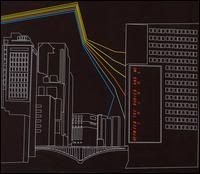 9/10
Colors
is Between the Buried and Me's 5th studio album.
Colors
' centerpiece is a thirteen-minute track called "Ants of the Sky." The first 15 seconds is death metal. The next 15 seconds is punk rock. The next 40 seconds is intense guitar and drum soloing, followed by ten seconds of church music, then 30 seconds of 70's freewheeling guitar solos, then a minute of organ-led death metal, followed by spastic riffage, and then more death metal. The three-minute mark is broached. 3:45 in, it sounds like the guitar player from Boston is jumping in, then at four minutes, the one from Pink Floyd (whose
Dark Side of the Moon
,
Colors
' cover is an obvious homage to). Then there is an organ and cowbell duet, then more crazy, shifting death metal. At 5:52, some sort of samba happens for about 40 seconds until the metal starts again. At 7:40 the death metal vocalist turns into an angel and sings pleasantly while his band does quiet, building things, then heavier things with big tom toms (and the ghost of his death metal growl still hovers), until 9:40, when all of the heavier sounds go away, the music sounds like Radiohead, and the vocalist continues to sing prettily. At 10:50 the band shifts into what I can only describe as "Weather Channel Music," until the 11:30 mark magically transports "Ants of the Sky" to the floor of a backwoods Kentucky bar (rowdy voices and all). Of course, there is still a minute and a half left, and at 12:20 the victorious 70's guitar riff returns to play out the song over the death metal vocals and some keyboards.
(This guy posted the lyrics underneath the song, showing the thought maelstrom you're getting tossed into, as well)
This is only 13 out of 64 insane minutes that flow as one song. The rest is awesomely much the same. I hinted in my review of Between the Buried and Me's previous album that they would soon find balance between heavy and pretty, but after listening to
Colors
for the first time in a while, that statement is not accurate. There is no balance to be found on
Colors
. What makes
Colors
a great album is the fact that ANYTHING can happen at ANY moment without regard to whether it SHOULD happen, or if it HAS HAPPENED before--this could have led to disaster, but the band threw everything in their nutty heads at the wall and everything stuck. This is an incredibly technically talented band reaching an artistic peak, paving roads through disparate rainforests of sound on quicksand soil, yet somehow still forming solid ground.
2007 Victory Records
1. Foam Born, Pt. A: The Backtrack 2:13
2. Foam Born, Pt. B: The Decade of Statues 5:20
3. Informal Gluttony 6:47
4. Sun of Nothing 10:58
5. Ants of the Sky 13:10
6. Prequel to the Sequel 8:36
7. Viridian 2:51
8. White Walls 14:13