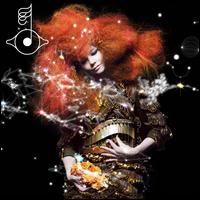 7/10
Björk composed most of the music for
Biophilia
on an IPad for an IPad app or something like that, but I don't really care. She took that music, tinkered it into a full-length album, and I only know
Biophilia
in that context.
Björk intended this music to cover the scope of a tiny cell all the way to the circumference of a planet. With that thought in mind, she should have used something other than an IPad to make the majority of the music. While mostly lovely, this music also feels very small. For a Björk album,
Biophilia
feels too safe. There is nothing at stake. On her previous great work, her emotions seemed nakedly on display admist vast, epic landscapes. Nothing here sounds large or important.
Listening to
Biophilia
is mostly enjoyable, though, and the scientific facts Björk tosses out (did you know that the Atlantic Ridge drifts at the same rate as your fingernail grows?) are interesting, but the experience is also, unfortunately, mostly forgettable. Only a few of the songs actually stick, but like all Björk albums, there are highlights. The best track might be "Virus," which compares the battle between a cell and the titular organism to a love/hate relationship between two humans. In fact, the best thing
Biophilia
has going for it is Björk's lyrical scientific metaphors for human interaction. She has obviously put a lot of thought into them, and it shows. That, if anything, helps keep
Biophilia
from being a completely minor work.
Unfortunately, it has now been a full decade since Björk released a truly great album. While she is aging gracefully, here's to hoping that she is not past her prime but just transitioning into the next stunning phase in her career.
Just listening to this song gives me hope.
Björk -- Virus
2011 Universal
1. Moon 5:44
2. Thunderbolt 5:15
3. Crystalline 5:08
4. Cosmogony 5:00
5. Dark Matter 3:22
6. Hollow 5:49
7. Virus 5:26
8. Sacrifice 4:02
9. Mutual Core 5:06
10. Solstice 4:41