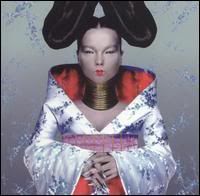 10/10
While Björk's first two albums are quite enjoyable, they are also quite sonically scattered. They were, however, aptly named, and
Homogenic
, Björk's third album, is as well.
Homogenic
is Björk's first album to feature a cohesive, homogenized sound. Björk, facing some heartbreak and pehaps a little growing up, sounds more focused than ever, employing an excellent combination of simple, sometimes aggressive electronics, and strings (there's an organ, harmonicas, accordians, and other organic instruments which fit in nicely, as well). This makes for an album that is epically icy, yet calming, glowing, warm. If that doesn't make sense in the context of other music, it's because
Homogenic
doesn't really sound like any other music, and Björk's voice doesn't really sound like that of any other singer.
Homogenic
also features another mark of a great album--movement. It starts in a relatively cold, confused place, and ends in a place of understanding and comfort. There is a definite beginning, middle, and end on this late night journey through a frozen canyon full of scattered, roving, neon lights.
And finally, I think it says something that a primarily electronic album that sounded awesome 14 years ago still sounds awesome now.
Homogenic
is a modern masterpiece. If entering Björk's cannon has proved chillingly difficult, this album is an easy way in. I think that was a double entendre, but i'm not sure. In that spirit, here are two Björk robots making out:
THANK YOU NOTE: Thanks X-Files: Fight the Future, for featuring "Hunter" on your soundtrack and again giving my high-school self some much-needed Björk exposure.
1997 Elektra
1. Hunter 4:15
2. Jöga 5:05
3. Unravel 3:21
4. Bachelorette 5:12
5. All Neon Like 5:53
6. 5 Years 4:29
7. Immature 3:06
8. Alarm Call 4:19
9. Pluto 3:19
10. All Is Full of Love 4:33