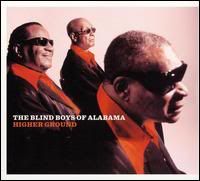 7/10
A bunch of really old, blind men singing gospel songs mixed with modern ones, backed by a very young Robert Randolph and his Family Band and sometimes Ben Harper. That is the best oversimplification I can give for
Higher Ground
. Admittedly, sometimes the Boys sound too old, and the secular crossovers feel a little too deliberate, but then sometimes the songs sound like this one, and if I was a Catholic I would listen to it every day and cry:
Seriously, that is one ridiculously powerful performance, and the album version is just as good. While none of the other songs reach those kind of heights, there are some pretty great standouts scattered throughout. These guys may not be anywhere close to boys anymore, but they still know how to move.
CONFESSION: Yes, I only found out about this album after hearing "I Shall Not Walk Alone" on "Confidence Man," one of my favorite episodes of the television series, Lost. Dang, that was a good show.
I mean, seriously, wasn't Sawyer an awesome character? Anytime someone from the South is portrayed as having a brain it's appreciated, but that was an especially good one.
2002 Real World Records
1. People Get Ready 3:22
2. Spirit in the Dark 3:15
3. Wade in the Water 3:34
4. Stand by Me 3:01
5. The Cross 2:47
6. Many Rivers to Cross 3:56
7. Higher Ground 6:14
8. Freedom Road 3:37
9. I May Not Can See 3:37
10. You and Your Folks/23rd Psalm 5:42
11. I Shall Not Walk Alone 5:26
12. Precious Lord 3:52