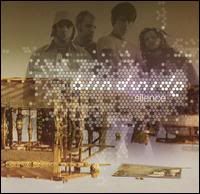 8/10
Something really weird happened in 2002. Blindside, a band few had ever heard of, signed to a major label. This was particularly strange because Blindside's most recent album at that point,
A Thought Crushed My Mind
, is about as far from major label as possible. I mean, it's called
A Thought Crushed My Mind
. While I had introduced friends and relatives to Blindside, I didn't know many outside of our circle who had heard of them. In all honesty, Blindside were probably a little too nuts for most of the people in my inner circle anyway.
That being said, Blindside getting signed felt like seeing my best friend's garage band jump to a major (not that Blindside and I were best friends, but I had hung out with them by this point...those dudes are nuts!), so it was a little strange to suddenly see so many people listening to them. I mean, they were on Conan. From Solid State Records sales-underachiever to Conan.
I mean, look at the gesture Conan makes at his throat when he greets them after the song. Worlds colliding violently!
Anyway, Blindside was given a shot at the big time. This is where the band really showed their talent. While I don't like
Silence
nearly as much as
A Thought Crushed My Mind
, simply for genre reasons, I must say Blindside essentially showed up to the modern hard rock party of 2002 and blew every other band out of the water. Some screaming garage band from Sweden isn't supposed to do radio rock better than all the American bands already toiling away at the genre, but Blindside do.
Radio rock is actually a bit of a misnomer. This album did get radio play, but Christian Lindskog still screams a decent amount. Sure, his melodic singing dominates this time around, but the screaming is there. The "radio" element is more in the verse/chorus/verse/chorus/bridge/chorus structure of the songs. Structure appears in Blindside's earlier catalogue, but on
Silence
it almost seems as if they are making a mockery of the whole concept by the ease with which they perfect it.
Also, there are a few tender, quiet songs that any of those radio rock bands would be hard pressed to pull off. The title-track is an excellent example of minimalism, but the full sound of "Midnight" might be even more powerful.
Also, there's a funny pun in the first verse.
2002 Elektra
1. Caught a Glimpse 3:25
2. Pitiful 3:14
3. Sleepwalking 4:03
4. Cute Boring Love 3:36
5. The Endings 3:44
6. You Can Hide It 3:11
7. Thought Like Flames 3:54
8. Time Will Change Your Heart 2:58
9. Painting 3:36
10. Midnight 4:12
11. Coming Back to Life 2:49
12. She Shut Your Eyes 2:59
13. Silence 5:37