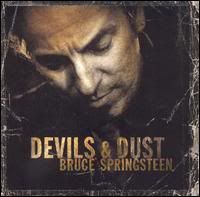 9/10
And now we finally reach the great victory lap that is modern day Springsteen. After bringing himself back into the public conversation with the well-regarded, but bloated and overrated
The Rising
, Springsteen was ready to again stretch his artistic muse. On
Devils & Dust
, Springsteen channels his experiences, artistic passions, and musical aspirations into an album full of life. You can almost hear the bugs crawling through the wetness of the grass sprouting beneath the feet of the protagonists on
Devils & Dust
's twelve tracks (and hear the ratlesnakes slithering through the sand of the desert-set tracks).
In my review of
Human Touch
, I complained that the songs sounded like they belonged in the end credits of a box-office flop.
Devils & Dust
's opening title track sounds like it could score the ending of a deserving Oscar Winner. I keep using the word cinematic, but that's exactly what these rich, full-sounding recordings are. I don't think Springsteen has ever recorded an album that sounds this great with arrangements this interesting.
While this is a solo album, Bruce did not look for a new backing band like he did on his early 90's failures. He plays almost every instrument himself and lets friends fill in to give the album fresh textures. His wife notably provides backup vocals on several tracks, and a few songs also have a very beautiful, organic-sounding string accompaniment. Experiments in production add character, as well. Some of the songs put Springsteen's weathered vocals right in the listener's ears, but instead of disconcerting, the sound is comforting.
While
Devils & Dust
can be considered a spiritual successor to Springsteen's
Nebraska
and
The Ghost of Tom Joad
, it's quite different, fuller sounding, and far more encouraging. There aren't any desperate criminals to be found in Devils & Dust's lyric book, just ordinary folks living their lives. Also a departure are the uplifting (not in the Michael Bolton on a mountaintop way) love songs. The Deep South back-porch charm of "All I'm Thinkin' About" is about as far from anything on the those two previously mentioned albums as one can get.
The moon, water, and stars seem to pop up on at least half of the tracks on Devils & Dust, as well. The album may begin starkly and end with a corpse floating down a river, but that only highlights the beautiful day found within. If Springsteen can make albums like this at nearly sixty, one has to feel just a little more optimistic about aging
2005 Columbia
1. Devils & Dust 4:58
2. All the Way Home 3:38
3. Reno 4:08
4. Long Time Comin' 4:17
5. Black Cowboys 4:08
6. Maria's Bed 5:35
7. Silver Palomino 3:22
8. Jesus Was an Only Son 2:54
9. Leah 3:31
10. The Hitter 5:53
11. All I'm Thinkin' About 4:22
12. Matamoros Banks 4:00