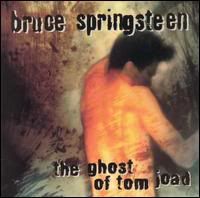 9/10
The Ghost of Tom Joad
, or
For the First Time in Eight Years, Bruce Springsteen Shows Some Ambition
.
Nothing that Bruce Springsteen released between 1988 and 1994 is worth listening to. There, I said it. That is quite a drought to have not one good song. To an extent, Bruce's real life got in the way. Settling down, being happy, all the important things in life. Unfortunately for Bruce's fans, this meant the artistic fire in his belly had gone to coal and ashes. I'm not sure what spark ignited these meager embers, but, despite a quiet sound, there is a bright fire shining through the desert night of
The Ghost of Tom Joad
.
A western theme is pretty prominent throughout
The Ghost of Tom Joad
. Most of these songs (just like the Steinbeck penned novel the title character comes from) are set along the Mexican border. Someone must have reminded Bruce of his master storytelling powers, or perhaps he just looked in the mirror. His wonderful character portraits return here. While some compare this album to Springsteen's landmark,
Nebraska
,
The Ghost of Tom Joad
is an entirely different beast. This is a studio album with subtle, but more diverse instrumentation--not just guitar and harmonica. Drums even show up a couple of times.
Bruce put much sincere thought into this album, and the delicate melodies he picks out on his acoustic guitar fit the intimacy of the stories. I've said it before, but I hate that word. "Intimacy." It sounds so cheesy. Literate, yet warm is a more intellectual way to describe the songwriting style of this album. As Bruce unveils his characters--losers, criminals, drug runners, desperate immigrants--one can imagine an entire book based on each song.
Bruce's aforementioned guitar and quiet synthesizer work propel most of the songs musically. There is a little Spanish guitar, some Western slide guitar, and a few other small touches, but
The Ghost of Tom Joad
is pretty spare, musically speaking. This is the album's only weakness at times. "Balboa Park" is an absolute home run lyrically, but the music leaves its well-told story hanging obliquely. This happens a few times throughout, and I think a tad more musical diversity would help the album flow a bit better. Other than that small complaint,
The Ghost of Tom Joad
, is a highly underrated Springsteen album, and perhaps his lyrical masterpiece. Anyone who enjoys intelligent music should give it a spin, and fans of good storytelling are truly in for a treat.
I slipped on her shoe, she was a perfect size seven
I said "there's no smoking in the store ma'am"
She crossed her legs and then
We made some small talk, that's where it should have stopped
She slipped me a number, I put it in my pocket
My hand slipped up her skirt, everything slipped my mind
In that little roadhouse
On highway 29

It was a small town bank, it was a mess
Well I had a gun, you know the rest
Money on the floorboards, shirt was covered in blood
And she was crying, her and me we headed south
On highway 29

In a little desert motel, the air it was hot and clean
l slept the sleep of the dead, I didn't dream
I woke in the morning, washed my face in the sink
We headed into the Sierra Madres, across the borderline
The winter sun, shot through the black trees
I told myself it was all something in her
But as we drove I knew it was something in me
Something had been coming for a long long time
And something that was here with me now
On highway 29

The road was filled with broken glass and gasoline
She wasn't saying nothing, it was just a dream
The wind came silent through the windshield
All I could see was snow and sky and pines
I closed my eyes and I was running,
I was running then I was flying
1995
1 The Ghost of Tom Joad 4:26
2 Straight Time 3:30
3 Highway 29 3:44
4 Youngstown 3:57
5 Sinaloa Cowboys 3:52
6 The Line 5:19
7 Balboa Park 3:21
8 Dry Lightning 3:37
9 The New Timer 5:49
10 Across the Border 5:29
11 Galveston Bay 5:06
12 My Best Was Never Good Enough 1:59