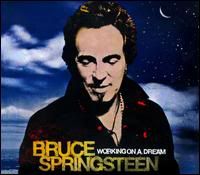 9/10
When I review something, I always have to decide between going in depth or just being brief and general. I really want to go in depth with Springsteen's decade-ending
Working on a Dream
, but the nature of the album almost begs I don't. The songs contain more experimentation than Bruce has ever dared, but their simple optimism resists overanalyzation.
Working on a Dream
starts "Outlaw Pete," an eight minute song about an Outlaw named Jerry. I'm just kidding, his name is Pete. Anyway, if you were expecting a Springsteen album to start with an epic cowboy tale, you are from the future and should be doing better things with your advanced technology. "Outlaw Pete" is a blast, and drives smoothly into "My Lucky Day," a fun, fast-paced song that is again literal in it's title (or actually metaphorical since his "Lucky Day" is a person). Every single on this song is about what it says. Whether pumped up by a new presidential administration, or just excited about his station in life, Springsteen sounds both contemplative and giddy. The themes of the album are positively basic, with constant reminders that money can't buy happiness, and that life lived loving others is a beautiful thing. I guess that's why, despite the fact that these songs hit more genres and feature more odd, bubbly sounds and instrumentation than any Bruce has ever recorded, I don't feel like I can write a probing review. I could just write a review based on the song titles alone.
So in conclusion, this is an energized and ecstatic Springsteen, and his enthusiasm bleeds easily into his band. While the subject matter is light, the album is a musical waterful of goodness. If
Magic
was too heavy for you,
Working on a Dream
is the way to go. This album would have made for a fitting goodbye for the 62-year old legend. The spare, sagelike concluding songs, "The Last Carnival" and "The Wrestler" would have made for an excellent encore. We'll see where he goes next in a couple of weeks...
Also, people way younger than me listen to Springsteen, and they are adorable.
2009 Columbia
1. Outlaw Pete 8:00
2. My Lucky Day 4:00
3. Working on a Dream 3:30
4. Queen of the Supermarket 4:39
5. What Love Can Do 2:56
6. This Life 4:30
7. Good Eye 3:00
8. Tomorrow Never Knows 2:13
9. Life Itself 4:00
10. Kingdom of Days 4:02
11. Surprise, Surprise 3:24
12. The Last Carnival 3:29
13. The Wrestler 3:50