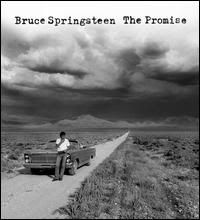 8/10
For the 20th anniversary of his seminal album,
Darkness on the Edge of Town
, Bruce Springsteen uncovered trunk loads of songs he recorded during the same sessions. This being Springsteen, instead of releasing them as is, he took two years to tweak them and sequence them. The result is
The Promise
.
Despite it's sprawling length,
The Promise
is a simple set of teenage love songs, 70's-rock style with shades of the 50's, shrouded in night. The second track, "Gotta Get That Feeling" throws a divisive curveball, though. Springsteen doesn't sound thirty, but sixty. It turns out that Springsteen went back and recorded new vocal takes (and some instrumental ones) for some of the tracks. Sometimes the new takes appear right beside the old ones. While some completists might find this offputting, I actually like it. Having the older Springsteen's voice along for the ride adds a wisdom and sentimental timelessness that detracts from the an otherwised present naivete. In simpler terms, it gives the songs more substance. My favorite instance of this occurs on "Because the Night," famously recorded by Patti Smith, but written by Springsteen and finally released by him here. A younger voice would have perhaps enhanced the urgency of the track, but Springsteen's more aged, grizzled vocals give the song haunting, substantial experience. This old dude knows what he is talking about.
The only detraction I can give
The Promise
is it's length. This is definitely a summer romance, and by that, I mean it seems to go on for an entire summer. Then again, I wouldn't really want any of these songs to be sacrificed, so I get the overflow of music. It's all good stuff.
2010 Sony Music Entertainment
Disc 1
1 Racing in the Street 6:50
2 Gotta Get That Feeling 3:19
3 Outside Looking In 2:18
4 Someday (We'll Be Together) 5:38
5 One Way Street 4:20
6 Because the Night 3:25
7 Wrong Side of the Street 3:36
8 The Brokenhearted 5:19
9 Rendezvous 2:39
10 Candy's Boy 4:39
Disc 2
1 Save My Love 2:38
2 Ain't Good Enough for You 4:03
3 Fire 4:09
4 Spanish Eyes 3:50
5 It's a Shame 3:16
6 Come On (Let's Go Tonight) 2:20
7 Talk To Me 4:21
8 The Little Things (My Baby Does) 3:18
9 Breakaway 5:32
10 The Promise 5:54
11 City of Night 7:07