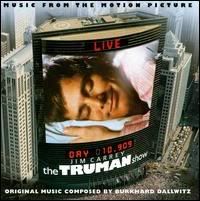 8/10
The Truman Show
is a strangely prophetic film. Predating the CBS program Survivor, and thus the still-going US "reality" TV craze by two years, The Truman Show features a protagonist trapped in a pre-scripted television program he doesn't even know exists. It is a wonderful example of excellent late 90's cinema, but I'm not here to review the film.
The Truman Show
soundtrack is a pretty brilliant pairing of film composer, Burkhard Dallwitz, and legendary classical composer, Philip Glass. While Dallwitz's name is on the CD spine, Glass wrote 1/3 of the material. The two were nominated and received several awards for this score, all well-deserved.
This soundtrack definitely puts the "original" in score. The composers not only had to create music in the vein of a television show that could score a television show, they had to make the music a bit maudlin while still being genuinely moving. If that sounds confusing, it is. To put it another way, the inner frame of the soundtrack is the television show of the film, and the outer frame is the actual film. The music has to miraculously fit both at the same time, and it does.
That piece leads directly into Glass's "Raising the Sail," one of the film's most beautiful moments.
1998 Milan
1 Trutalk (Dallwitz) 1:19
2 It's A Life (Dallwitz) 1:29
3 Aquaphobia (Dallwitz) 0:39
4 Dreaming of Fiji (Glass) 1:54
5 Flashback (Dallwitz) 1:20
6 Anthem (Part 2) (Glass) 3:51
7 The Beginning (Glass) 4:11
8 Romance - Larghetto [Second Movement from Piano Concerto No. 1 in E Min] (Chopin) 10:45
9 Drive (Dallwitz) 3:36
10 Underground (Dallwitz) 0:57
11 Do Something! (Dallwitz) 0:45
12 Living Waters (Glass) 3:48
13 Reunion (Dallwitz) 2:26
14 Truman Sleeps (Glass) 1:51
15 Truman Sets Sail (Dallwitz)1:57
16 Underground / Storm (Dallwitz) 3:37
17 Raising the Sail (Glass) 2:15
18 Father Kolbe's Preaching (Kilar) 2:26
19 Opening (Glass) 2:16
20 A New Life (Dallwitz) 2:01
21 Twentieth Century Boy (Bolan) 3:07