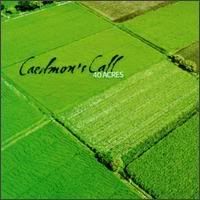 8/10
In a way,
40 Acres
is Caedmon's Call's previous album with more of a pop sheen and a little tinge of country. It definitely has less grit than its predecessor. Then again, the songwriting is still remarkably strong, maybe even more so, and the utilization of the three vocalists is still a great asset. These factors make
40 Acres
an enjoyable album, though the gloss and polish make it a little harder to love than the self-titled one. Then again again,
40 Acres
features their best song by far, which also happens to be the title track. It's a lovely harmonied song that makes you feel like as long as you are alive, things can always get better, no matter where you are--even after you start sentences with the phrase "Then again again."
1999 Essential Records
1.There You Go 3:20
2. Thankful 4:20
3. Shifting Sand 3:49
4. Faith My Eyes 4:41
5. Where I Began 3:42
6. Table for Two 3:34
7. Climb On (A Back That's Strong) 3:51
8. Petrified Heart 4:41
9. Somewhere North 5:31
10. Daring Daylight Escape 3:39
11. 40 Acres 3:35