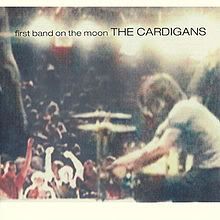 8/10
On their breakout album,
First Band On the Moon
, the Cardigans do everything bigger.
The songs sound fuller, better produced, better mixed, better written, more expensive. The disparity between the lyrics Nina Persson sings and the way she sings them also grows. She gets dumped, beaten, cheated on, but she sings like she is provocatively licking a bush of cotton candy at the county fair. It gets to the point that the band can only be making a statement about men who mistreat women. If I had wronged this band's vocalist then heard her sweetly sing:
You'll break the foot that your standing on
I'll walk with the other one
Do what you want to do
Be what you want to be
Go ahead and step on me
,
then later
Mama tells me I shouldn't bother
That I ought to stick to another man
A man that surely deserves me
But I think you do!
I think I would sit in the fetal position in the corner of my bathroom sobbing and feeling like the worst human being alive. The latter lyrics come from the band's biggest, most well-known song (thanks Romeo + Juliet Soundtrack), "Lovefool."
The first time I heard "Lovefool" (and the Cardigans), I was in a minivan with my family on top of a Colorado mountain in the dead of winter. I thought "Lovefool" was a fun song, but fifteen years later, reading the lyrics for it and all the other songs on this album, there are some seriously messed up things going on. The chill-out cover of "Iron Man" enhances this feeling. So while
First Band on the Moon'
s music doesn't seem to have much depth, just like a lake with a placid surface, it was actually formed by an ancient glacier and goes 1000 disturbing feet down. Also, it's fun to listen to and gets really pretty and self-aware near the end.
1996 Stockholm
1. Your New Cuckoo 3:55
2. Been It 4:04
3. Heartbreaker 3:42
4. Happy Meal II 2:36
5. Never Recover 3:20
6. Step on Me 3:53
7. Lovefool 3:13
8. Losers 3:17
9. Iron Man (Black Sabbath Cover) 4:19
10. Great Divide 3:16
11. Choke 3:32