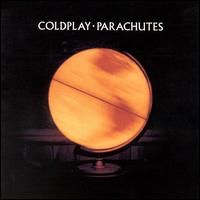 6/10
Coldplay's debut album starts off interestingly enough. Chris Martin insists "
We live in a beautiful world
" on album opener, "Don't Panic," but his band seem less certain, the guitar and drums sliding through offsetting rhythms. "Don't Panic" holds the same honor as "The Guns of Brixton" from The Clash album I (
not controversially
) reviewed last week: it backs up a really great scene from the excellent show, "Rescue Me."
After a strong, ambiguous start, the rest rest of the album is just vaguely pleasant to the point that it's almost not pleasant anymore. This is sort of "rock" music, if rock music incited a nice mid-day nap instead of rioting. "Don't Panic" is a take from Douglas Adams'
Hitchhiker's Guide to the Galaxy
, but that series' final work, "Mostly Harmless" could be an alternate title for
Parachutes
. While
Parachutes
is almost gratingly gentle, it's not necessarily bad--there's something there, even if what it is isn't quite tangible. The musicianship is decent, the songs are mixed well (if you've got a bass player, might as well let everybody hear him, right?), there's some atmosphere, and it doesn't go on longer than it needs. It seems like Coldplay have a decent head on their shoulders, but could use a little ambition. And, no, creating a safer version of "Subterranean Homesick Alien" does not fill that quota:
2000 Nettwerk
1. Don't Panic 2:16
2. Shiver 4:59
3. Spies 5:18
4. Sparks 3:47
5. Yellow 4:29
6. Trouble 4:30
7. Parachutes 0:46
8. High Speed 4:14
9. We Never Change 4:09
10. Everything's Not Lost 7:16