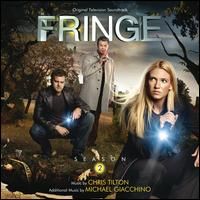 8/10
Fringe is a fantastic television show with many underlying themes. One of the most enjoyable is the melding of archaism and futurism, typewriters sending messages across universes. It makes sense that the show's soundtrack follows suit. Classical instruments weave throughout many of the tracks, electronic instruments intertwine with them, and frequent, pounding percussion fuses them together. It may not be for everyone, but it certainly conjures up feelings of the show all on its own.
Composer Chris Tilton sounds a bit like his mentor, Michael Giacchino, who scored Fringe's pilot episode, has music found on this disc based on his themes, and who provides the show's "End Title Theme," also found on this disc. While Giacchino frequently composes major films now (if you've seen a recent Pixar film, you've probably heard his music), I think Fringe's closing piece, though short, is some of his best work.
Twenty-seven out of twenty-nine tracks are Chris Tilton compositions, though, and Tilton is a distinct composer from Giacchino. Giacchino's bombastic, theatrical style can be identified by listening to five seconds of any of his pieces. That's not an insult--it's a testament to the individuality of his vision. Tilton's work is more driving and mysterious, inspired by, but not derivative of his mentor.
The fusion of archaism and futurism is quite apparent on much of his work here, "Breach to the Choir" being a great example:
His work is similarly solid throughout, but his greatest achievement is the "Brown Betty Suite," a medley of noir and jazz-inspired music taken from the fantastical 19th episode of the second season. The diversity of this track is a testament to Tilton's skill as a composer. His moody arrangements on "Brown Betty Suite" reflect the rest of his work on Fringe, but through the lens of another time, place, and genre.
Of course, no review of a television soundtrack would be complete without a discussion of the opening theme music. Show-creator, J.J. Abrams, composes the opening themes for all of his shows. Abrams' original opening for Fringe appeared on the first season's soundtrack, but is redone as a real treat on this one--it's the remixed retro-version from the 1980's-set episode, "Peter," and I could listen to it a thousand times. (here it is just once)
2011 Varèse Sarabande
1. A New Day in the Old Town 1:44
2. Good Ol' Charlie 2:03
3. The Coma-Naut 5:27
4. Hypnotic Suggestions 1:08
5. Observers Everywhere Everytime 2:13
6. Love and Death on Observer Island 3:24
7. What a Gas 4:35
8. Forest of Dreams 3:27
9. Where Dunham Fears to Tread 1:55
10. The Building Theft 1:20
11. The Window of Opportunity 3:14
12. Reiden Out to Madness 3:56
13. Doppelganger Up on Reality 2:52
14. Breach to the Choir 3:32
15. Olivia's Cross to Share 0:58
16. Over There 2:14
17. The Son Also Rises 2:05
18. Devastation Nation 1:12
19. Saved by the Belly 2:27
20. Haste Makes Wasteland 1:36
21. Quibbles and Fits 3:20
22. Doubled Over 2:18
23. Love in the Time of Crossing Over 3:09
24. Bells and Missiles 3:54
25. Give My Regards to Fraudway 2:18
26. End Title Theme (Giacchino, Tilton) 0:35
27. Fringe 85 (Abrams, Tilton) 0:25
28. Red Russian Down 1:35
29. Brown Betty Suite 9:09