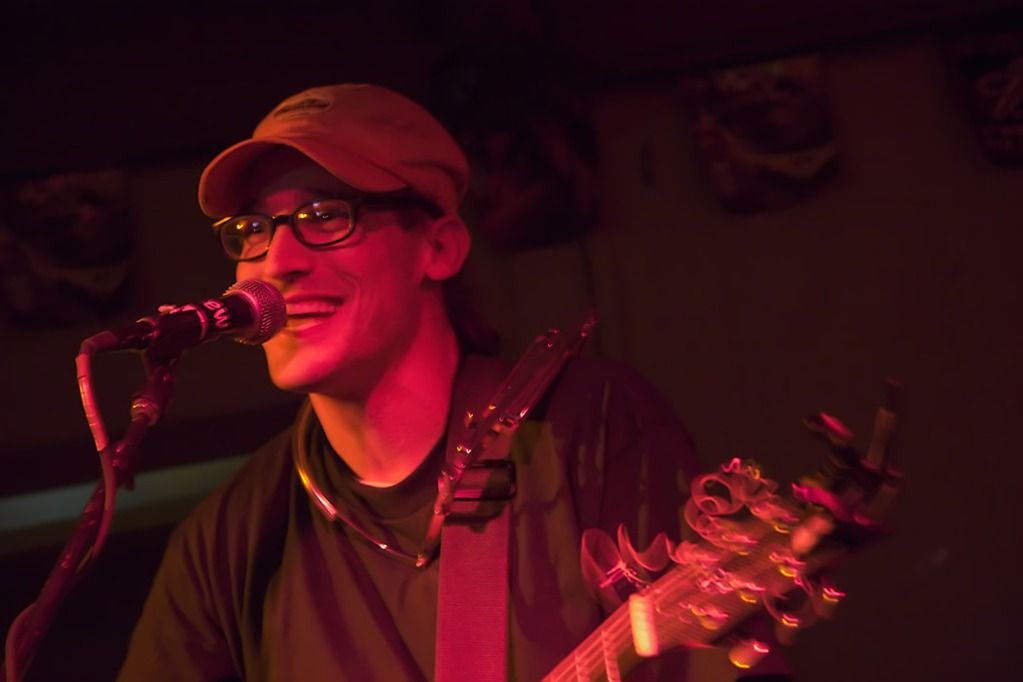 When I reached David Loti's place in my music collection, I knew I couldn't just simply review his work. David has been a very good friend of mine for the past eleven years, and his work means a lot to me--I don't see that I could come at it with any form of objectivity. Instead, I'll just talk about it...semi-objectively.
To quote David himself, his "
musical enjoyments and influences include Five Iron Frenzy, Eric Peters, Weird Al, Was (Not Was), Roper, Brave St. Saturn, Craig's Brother, Pep Squad, Tom Lehrer, They Might Be Giants, Edie Brickell, Element 101, Potshot, Dr. Demento, Seth McGaha, Hangnail, Dogwood, Side Walk Slam, The Miscellaneous, Star Ghost Dog, Two Thirty Eight, The Aquabats, and Counting Crows
." Those are a lot of influences, and in some ways I have heard David incorporate them all into his music. At the same time, I don't think anyone who has listened to any band or solo venture David has participated in has thought that he sounded like anyone other than himself.
After relinquishing his duties for the now defunct (and quite awesome) art-rock band,
Lucid Soule
, David embarked upon his solo career. Though he began in a sort of acoustic, singer-songwriter vein (completing his first EP,
The Process,
during this period), David quickly branched out. In my opinion, David's solo work really took off when he turned to ex-bandmate, John Tulley (Lucid Soule's founder and guitarist), to do production work on David's 2006 EP,
Ambivalence
. At this point, David's songwriting work had already become quite strong, while Tulley's electronic work, programming, and additional instrumentation really expanded the frontiers of Loti's sound. The
Ambivalence
EP features a song that, if the Earth was a fair and just planet, would be a really good hour long dramedy's opening theme, "Good Year."
While generally good-natured and cheerful on the surface, David's music can also have an underlying strain of melancholy that I find quite enjoyable. It's that nearly indescribable feeling of being both happy and sad at the same time that I'm sure the French have a word for.
While working on
Ambivalence
, David also started up a short-lived duo with Monica Filgo called Stand Up Citizens. David played drums, keyboard, and sang
at the same time
in this band, while Monica also played keyboard and sang. David explored more of his light-hearted, humorous side with this band, and even once shared a stage with the similar (but in my opinion, less diverse), Matt and Kim. When Stand Up Citizens folded, David put new energy into his solo work, bringing into it a lot of the keyboard and drum work.
All the while, David's most popular gig was as a guitarist (sharing that duty with Andy Venuto) and one of two vocalists/songwriters in
A Soup Named Stew
, a comedy rock band that won LSU's 2006 Battle of the Band's contest, and quite a bit of regional fame.
In Stew, Loti found an excellent love/hate stage banter with co-frontman/bassist, Will Heflin, that was often hilarious. The duo wrote about monkeys, penguins, lawn chairs, girl vomit, bowling, Zamboni machines, and robot dentists, among other things, and are now sorely missed on the local scene (Loti has since moved his sound from the swamps to Southwestern Canada).
Perhaps David's greatest achievement is
Amalgam
, titled literally, as it takes cues from all of Loti's work: his
Ambivalence
EP, his work in Standup Citizens, and even some tones from A Soup Named Stew.
Amalgam
also features some new, more sublime touches, including a lovely cover of Five Iron Frenzy's "Dandelions," as well as the absolutely ethereal, "Sleep," a personal favorite of mine.
David Loti's joy, exuberance, melancholy, and humor are all on full display throughout
Amalgam
's sixteen tracks.
Not one to rest on his laurels, David has continued working. His recent live recording of the new, semi-instrumental, "Save Me," in which he plays ukulele, plays tambourine, plays percussion, beat-boxes, and vocalizes (yes, all live at once) is proof of his continued excellence.
Listen to and or digitally purchase David's music
here
.