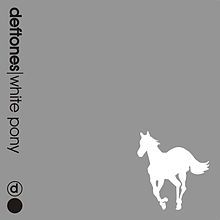 10/10
A dim light flickering in the trunk of a car speeding along the highway. Electrical currents flowing through a bathtub in the middle of the night. Someone so full of themselves, they are literally leaking out. Violent lunar romance. Deftones add DJ Frank Delgado to their lineup on
White Pony
, and go from a very good band to one of the best bands on the planet. Delgado's soundscapes take
White Pony
to other worlds that vocalist, Chino Moreno, populates with dark, seductive stories, his lyrics finally matching the extraterrestrial voice that gives them life. Drummer Abe Cunningham's beats are tribal, irresistible--it's impossible not to get trapped in their flow. Guitarist, Stephen Carpenter, trades off huge riffs with a now guitar-equipped Moreno, who adds a quiet, delicate touch, especially on the gentle burble of "Teenager," a song with no landmark to Deftones' previous work.
This is still a heavy album, though, even if it's not full of shredding and screaming. "Rx Queen" features a creepy spaghetti western guitar lick, but the industrial sounds that sync with the drums give it a pounding edge. It, like the majority of the album, is heavy more on a metaphysical level than a physical one. There really is no landmark for this music altogether, though, nor genre. Art-metal, maybe.
What is certain is the thickness of the atmosphere and transportive power of each one of these songs.
The metaphorical, gothic horror of "Change (In The House Of Flies)," led by Chi Cheng's hypnotic bass line, is conveyed quite well in this post-apocalyptic party of a video, but the song on its own conjures enough imagery to stimulate a vivid imagination.
Likewise, the sensual, violent "Digital Bath" is a gorgeous song, the kind of track one can get lost in for months. "
You breathed, then you stop. I breathe, and dry you off.
" Who knew a song about electrocuting someone in a bathtub could be sexy? And who knew that a band who began their career with comparisons to Korn could make it that way? Of course the electrocution is also a metaphor for sex, just like the album title and half of the songs are...but hey, we're all adults here, right?
White Pony
originally received a three star out of five review from aging baby-boomer collective, Rolling Stone magazine. The same magazine that gives Pink Floyd's
Dark Side of the Moon
a retrospective every single year, harping on and on about how groundbreaking Clare Torry's vocal work was on "The Great Gig in the Sky," failed to notice an equal greatness and importance in the otherworldly Rodleen Getsic vocal track that blows into "Knife Prty," or in Maynard James Keenan's monumental guest spot on the hallucinatory "Passenger." That's right you Zen and the Art of Motorcycle Maintenance-loving fogies, I just said Deftones'
White Pony
is as good and as important to rock music as Pink Floyd's
Dark Side of the Moon
.
2000 Maverick
1. Feiticeira 3:09
2. Digital Bath 4:15
3. Elite 4:01
4. Rx Queen (feat. Scott Weiland) 4:27
5. Street Carp 2:41
6. Teenager 3:20
7. Knife Prty (feat. Rodleen Getsic) 4:49
8. Korea 3:23
9. Passenger (feat. Maynard James Keenan) 6:07
10. Change (In the House of Flies) 5:00
11. Pink Maggit 7:32