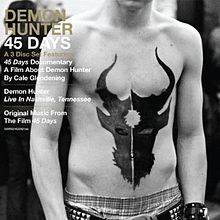 6/10
Minimalist soundtrack to Demon Hunter's spare and emotional black-and-white documentary. The first eight tracks are completely instrumental, composed only of piano, acoustic guitar, highly distorted electric guitar, and very faint electronic touches.
The last two tracks are new versions of two
Storm the Gates of Hell
(which this follows in Demon Hunter's chronology) tracks. The first, "Fading Away" features only Ryan Clark's vocals and an acoustic guitar. The second, "Carry Me Down," contains only Clark's voice, piano, and strings.
Overall, this soundtrack bears no resemblance to Demon Hunter's previous or following work. Open-minded fans of the band may find something to like in the harsh, yet bare and meditative landscapes. Without any landmarks, though, most others may feel stranded.
2008 Solid State
1. Closing In 2:21
2. Turn Loose the Hounds 4:08
3. Ours Alone 6:35
4. The Deep 2:00
5. Dust and Smoke 3:21
6. Purified In The Storm 7:03
7. The Scars We Don't See 2:48
8. Perseverance 7:23
9. Fading Away (Acoustic Version) 4:18
10. Carry Me Down (Piano Version) 4:35