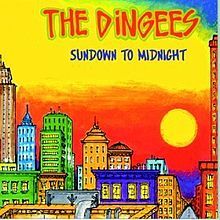 8/10
The Dingees return with an album sprouting not too far down the branch from their previous one.
Sundown to Midnight
features more melding of punk and reggae with touches of dub and ska. It is noticeably darker than it's predecessor (hey, "Midnight" is in the title!) but continues that album's themes of street life and rebelling against social injustice. Pegleg's back-and-forth vocals with sax player, Dave Chevalier, continue to be a highlight, as the duo turn special attention to the hypocritical criticisms of the older generation toward the new. The mix of high energy and more slowed down, dub-influenced tracks is great. Not too many bands today have the ability to kick off an album with a high-energy rocker like "Rally-O"
only to effortlessly slow things down later with an atmospheric song like "Dark Hollywood," while not losing a minutiae of momentum.
The Dingees balance this back-and-forth brilliantly throughout Sundown to Midnight's 40-minute run. And alliteration almost always makes me magnificently merry.
A FINAL NOTE: Also, kudos to the band for the sunset cover artwork that slowly brightens then fades to night as one unfolds the CD Booklet. In the early 80's, when I often spent weekends with my grandparents in Morganza, I loved looking at the collector-worthy artwork on the Kleenex boxes my grandmother kept in the bathroom.
Sundown to Midnight
's booklet's time-changing city painting is an excellent facsimile of that art style.
1999 BEC Recordings
1. Rally-O 2:47
2. Can't Trust No Man 2:46
3. Votes And Violence 2:41
4. Radio Freedom 3:45
5. Leave The Kids Alone 1:39
6. Trial Tribulation 4:17
7. Chevy Maibu 2:54
8. Staff Sgt. Skreba 1:35
9. Dark Hollywood 5:40
10. San Francisco 3:14
11. New Route 3:36
12. Sundown To Midnight 2:04
13. You In My Heart 2:26