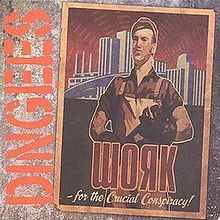 10/10
The Dingees'
Crucial Conspiracy
combines the punk and reggae of their previous releases, removes some of the ska, and adds a little more of the dub. Also, it's perfect.
The vocals, musical performances, songwriting, and album flow all leave nothing to be desired. The band's experience, combined with Frank Lenz and Chris Colbert's production talents, make for a flawless listen. The songs sound as full as possible without overloading. In addition to the usual rock band setup, horns, keys, organ, samples, and other accoutrements keep every moment interesting. "Summer" shows off many of the
The Crucial Conspiracy
's key elements.
This album is so good, it actually makes me want to redact some of the previous tens I've given into 9.9's. That's because there is no "I love this, but I wish they'd..." on this album. The only thing I can think of is, "I love this, but I wish it wouldn't have taken them nine years to follow it up."
Album favorites include every track, from the opening attitude of "Spray Paint," to the earnest reggae of "Dear Sister, Dear Brother," to the forlorn trippiness of "Latch Key Kids (my personal favorite from this album)."
The album's honest themes of perseverance, and rebellion against evil systems (along with some fun government alien-cover-up conspiracy stuff on the side) are incredibly resonant. "Moving Underground," starts off as a sunny ska story of record executives asking the band to tone down their sound, and ends in a punk fury.
This song highlights who will enjoy this album. If you require your rock music to have a pop sheen, move on. If not, I don't know what more you could want here.
Also, IT'S
ON
VINYL
FINAL NOTE:
The summer of this album signifies the end of an era. It's the summer before 9/11, the summer before everyone started hating each other more, the summer before optimism died, the summer before diversity in music wasn't only ironic, the last summer of the Sega Dreamcast (and the southern California setting of many Dreamcast games certainly fits this album). If you want to paint a line in American History across this end of the summer of 2001, you can paint an arrow pointing backward that says <--------FUN, and an arrow pointing forward that says -------->NOT AS FUN. Or maybe I just feel that way because I turned twenty that year, and I miss being a teenager. Either way, it's time for a return of FUN.
2001 Tooth & Nail Records
1. Spray Paint 3:03
2. Middle Man 2:14
3. Summer 3:41
4. Dear Sister, Dear Brother 4:21
5. Christina Fight Back 1:41
6. Ronnie Raygun 1:15
7. We Rot the Voodoo 2:52
8. General Information 2:17
9. Latch Key Kids 3:44
10. Moving Underground 4:10
11. Whole Scene 3:43
12. The World's Last Night 4:37
13. Declaration 1:39