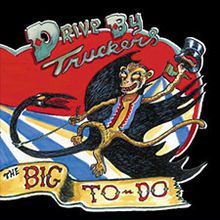 7/10
Patterson Hood's incredibly lengthy CD booklet intro to
The Big To-Do
reminds me of a long rambling speech I once made when giving a college biology presentation I suddenly realized I hadn't quite completed correctly. I was overcompensating.
The Big To-Do
is the first Drive-By Truckers album since their early work that does not completely satisfy. The worst part is, it is hard to identify exactly why.
It is certainly not for a dearth of good songs. "The Fourth Night of My Drinking," "Birthday Boy," "The Wig He Made Her Wear," "Get Downtown," "Santa Fe," are all great songs. "The Flying Wallendas" might be the most beautiful track the band have ever done.
"Eyes Like Glue," Mike Cooley's gentle song about fatherhood ends the album on a very true and honest note. And yet the other, less great tracks do not do a good job of connecting this album together. They almost sound--and I hate to say this about the work of such a great band--disposable. On top of that, outside of "The Wig He Made Her Wear," the Truckers don't really display their renowned storytelling skills, and the album lacks the history, character, and scope of the rest of their work. There is little of the sense of time and place the Truckers' music tends to evoke. Even though
The Big To-Do
is set in the present, it really just seems to float in a nebulous somewhere. Overall,
The Big To-Do
is just not up to the high standard expected of this incredible band. It still rocks, it is still pretty good stuff, but for the Truckers,
The Big To-Do
is just a footnote.
2010 ATO Records
1. Daddy Learned to Fly 4:43
2. The Fourth Night of My Drinking 4:45
3. Birthday Boy 3:35
4. Drag the Lake Charlie 3:16
5. The Wig He Made Her Wear 5:47
6. You Got Another 5:17
7. This Fucking Job 4:58
8. Get Downtown 3:12
9. After the Scene Dies 4:06
10. (It's Gonna Be) I Told You So 2:03
11. Santa Fe 3:26
12. The Flying Wallendas 5:16
13. Eyes Like Glue 3:15