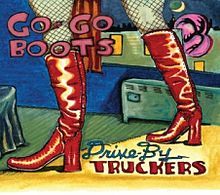 10/10
According to legend, the French have a word for everything, but since I don't speak it, the only thing I can compare to the sense of joy and bitterness found on Drive-By Truckers' latest record,
Go-Go Boots,
is having sex with your spouse on the morning before your divorce is finalized. Sorry for the grown-up analogy kids, but I've
already reviewed this one
in a concrete matter. Here is a more metaphysical version.
Guitarist/co-frontman, Mike Cooley, sums up my thesis of this album on track four, "Cartoon Gold." "
Getting all excited finding nothing that was never there before/ Is like bringing flowers to your momma and tracking dogshit all over the floor
." The son in "Go-Go Boots" gets the sudden revelation that his father had his mother killed, but his mom is still dead; likewise the son in "The Fireplace Poker" takes actual justice on his father, but now both his parents are gone. "Dancin'Ricky" is sure having a good time, but his belly's hanging out for all to see. The "Assholes" might have a point against their accuser, but they're still assholes. "The Weakest Man" finally works up the nerve to leave a harmful woman, but he's no better than all the smarter guys who actually avoided her in the first place. The guy who "Used to Be a Cop" found his true joy in life, but now he's lost everything. "Where's Eddie?" asks a woman ready to give him "
all the love that (she's) been saving
," which is great until you realize that Eddie wrote the song. The girl from "Pulaski" gets away from the South in order to live her dream, but her dream kills her. Inversely, the owner of "Ray's Automatic Weapon" can't get over his PTSD, but at least he's got a friend to help him out. The guy who needs "The Thanksgiving Filter" might be driven crazy by his family, but at least they're 300 miles away now, and he doesn't have to see them again until Christmas.
Of course, an album that only espoused these kinds of feelings would become a little trying. Thankfully,
Go-Go Boots
is framed by songs of such overwhelming grace, all the sorrow and joy is changed into something incredibly uplifting and transformative. The opening track, "I Do Believe," details the beautiful, unconditional love of the singer's grandmother. "Everybody Needs Love" is such an exhilaratingly excellent song and performance about the strongest power on Earth, Letterman actually made them play it twice.
"Mercy Buckets" describes a nearly superhuman sense of forgiveness and grace. It is that kind of redemption that makes all of the hope and joy amid our sufferings seem like worthwhile things. Something you can understand, sitting on a bench outside after it all went down, suddenly realizing you are going to have a beautiful day.
2011 ATO Records
1. I Do Believe 3:31
2. Go-Go Boots 5:36
3. Dancin' Ricky 3:26
4. Cartoon Gold 3:13
5. Ray's Automatic Weapon 4:25
6. Everybody Needs Love* 4:35
7. Assholes 4:39
8. The Weakest Man 3:19
9. Used to Be a Cop 7:03
10. The Fireplace Poker 8:14
11. Where's Eddie* 3:01
12. The Thanksgiving Filter 5:34
13. Pulaski 4:24
14. Mercy Buckets 5:24
*
Originally written by Eddie Hinton