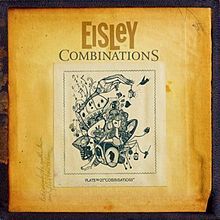 8/10
From the first few seconds of
Combinations
' opener, "Many Funerals," it is clear Eisley have grown up. Every following track confirms their songwriting has ascended to a new level. True to the album title, these ten songs display everything Eisley can do. Straight up rockers combine with wistful, more stripped down tracks, and whimsical, full-blown beauties.
Combinations
contains a laid-back energy and elegance lending a classic feeling to every song. On top of that, the DuPree sisters' vocals sound stronger than ever, the band tighter, and the production the best it's ever been.
Combinations
' only real flaw is also in the title. These songs don't really flow together too well. The parts are greater than the sum. The tracks could be re-arranged a dozen ways to the same effect. Perhaps the band realized this and labelled the album accordingly. Regardless, Eisley's growth and talent is easily apparent.
2007 Warner Bros.
1. Many Funerals 2:51
2. Invasion 3:36
3. Taking Control 3:03
4. Go Away 3:04
5. I Could Be There for You 3:35
6. Come Clean 3:33
7. Ten Cent Blues 3:59
8. A Sight to Behold 3:15
9. Combinations 3:34
10. If You're Wondering 3:55