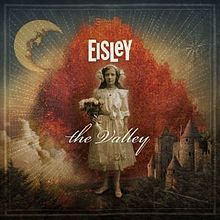 9/10
Eisley make the record of their career with
The Valley
, and I hope they never have to do it again. Nothing makes for material like misery, and it's a credit to Eisley's talent that
The Valley
isn't a miserable record. Eisley's years of label distress would wear out any band, but the experience of a member's divorce and another's broken engagement drive
The Valley
's songwriting. There are plenty of teary-eyed moments to be had, but the record is never mopey, and there are pissed off rockers to keep the balance. "Smarter" is the most aggressive and real song Eisley have recorded, and it might also be the best.
Or maybe that honor should go to "I Wish," wistful and too beautiful for words. Whichever way you slice it,
The Valley
's songs are not only the best on the whole that Eisley have written--they also come together to form their best album to date. (Sisters) Sherri and Stacy's voices are more distinctive than ever, but blend even better. I will also go so far to say, as Stacy plays more piano than usual on this album, it sounds like she has stolen Regina Spektor's mojo. Even the drumming is a step up from the band's previous work. The sky's the limit from here for Eisley, and despite the woes that went into making it, that's the lovely feeling one gets after listening to
The Valley
.
2011 Equal Vision Records
1. The Valley 3:16
2. Smarter 3:17
3. Watch It Die 3:10
4. Sad 3:19
5. Oxygen Mask 3:22
6. Better Love 3:19
7. I Wish 3:54
8. Kind 3:04
9. Mr. Moon 3:54
10. Please 3:30
11. Ambulance 4:00