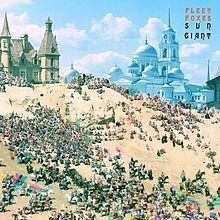 8/10
I always joke with my wife that 2008 was the year we truly fell in love. This is a joke because we married at the end of 2006, but like most good jokes, it isn't too far from the truth. After more than a full year of getting used to living with each other as spouses and getting rid of a ton of baggage we were both carrying, the two of us finally got to enjoy the simple pleasures of spending time with one another. 2008 also happened to be one of those years where the stage felt huge. I picked up this epic feeling somewhere along the way, and it built and built in me until, early into the following year, we found out we were expecting a child. Then we got to go over the whole, "Oh, crap, everything in life is different!" thing all over again. Hooray! Then 2011 saw us falling in love all over again, or something. I don't know. There aren't that many straight lines in life.
All that said, I discovered Fleet Foxes near the end of 2008, and introduced them to my wife shortly thereafter. Fleet Foxes were a much better fit for her musical tastes, but I was feeling so high by the end of that year, those good feelings might taint my opinion of the music on this EP. ;
Sun Giant
reminds me of driving through the Tennessee mountains with my wife, though this came out far after we did that. It also reminds me of driving alone over the hills around Natchez at the end of 2008, after I had actually listened to
Sun Giant
, wandering and reflecting on the year, wondering what would come next.
I mentioned above that this was a better fit for my wife's musical tastes. I generally don't like acoustic music, but in small, well-executed doses like Fleet Foxes'
Sun Giant
EP, I can certainly enjoy it.
Sun Giant
certainly sounds like a throwback to 70's folk music, but more than anything, it is evocative of the anticipation and electricity in an autumn or early winter night. Fleet Foxes harmonies are beautiful, and they do a great job of building from just voices in the opening title-track, to full band in the middle three songs. "English House," particularly, makes me feel like I am being whisked away on some holiday night hayride to a beautiful, mysterious plain of existence I can't quite imagine. Considering my wife and I did go on a surprisingly fun, late-night hayride with a bunch of strangers that Christmas, my opinions are once again colored. I just know that the two of us had a lot of fun adventures in 2008 for which I am very thankful for, and the end of that year felt like a great capper to that. This music helped.
At the start of the next year, Fleet Foxes played Sun Giant standout, "Mykonos" on SNL to showcase their mystical powers. We watched it together, enraptured. Magic.
Fleet Foxes - Mykonos (live)
from
Lordlicorice
on
Vimeo
.
Sorry for all the sentimentality and nostalgia. This wasn't much of a review. I don't even like this kind of music...as you will see when I hit this band's two full-lengths.
2008 Bella Union/Sub Pop
1. Sun Giant 2:14
2. Drops in the River 4:13
3. English House 4:41
4. Mykonos 4:35
5. Innocent Son 3:07