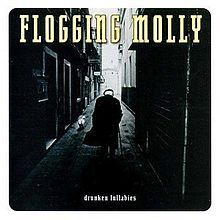 7/10
The spark that lit Flogging Molly's debut album is a little dimmer on their second. Maybe it's the law of diminishing returns, or maybe its just the more workmanlike nature of the album. The band seem to blow through most of
Drunken Lullabies
' twelve tracks without taking a breath, as if the devil is at their heels. Following
Swagger
, an album full of fun songs about sailing the seven seas, this sophmore LP's best song calls the ocean a "Cruel Mistress."
Indeed,
Drunken Lullabies
has a darker edge than its older brother, taking a more bitter, cynical look at life and seldom slowing down. That's not to say
Drunken Lullabies
isn't a blast in places, but the fun-factor is admittedly less. It's still a solid album, though--the second half, particularly, introduces more variety and deeper emotions. The lilting finale, "The Son Never Shines (On Closed Doors)," leaves the listener hungry for more music, as vocalist, Dave King, gently repeats the line "We all go the same way home." Indeed.
Indeed.
Indeed.
Indeed.
Sorry, I got caught in a loop there for a second.
2001 SideOneDummy
1. Drunken Lullabies 3:50
2. What's Left of the Flag 3:39
3. May the Living Be Dead (In Our Wake) 3:50
4. If I Ever Leave This World Alive 3:21
5. The Kilburn High Road 3:43
6. Rebels of the Sacred Heart 5:11
7. Swagger 2:05
8. Cruel Mistress 2:57
9. Death Valley Queen 4:18
10. Another Bag of Bricks 3:45
11. The Rare Ould Times 4:06
12. The Son Never Shines (On Closed Doors) 4:24