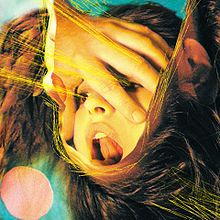 9/10
After checking out
At War With the Mystics
, The Flaming Lips' followup to
Yoshimi Battles the Pink Robots
, twice from the library, I firmly decided that I didn't like it at all.
Mystics
took anything I didn't like about the band, especially Wayne Coyne's more annoying characteristics (whiny, affected vocals and pretentiously ponderous lyrics) and amped it up to eleven. I only found
one song I enjoyed
on the whole album, which is a shame because the artwork is incredible. What a waste. Because of this, I don't own
At War With the Mystics
, so I won't review it here, even though I just sort of did.
I have a sneaking suspicion the band itself was let down by
Mystics,
because its followup,
Embryonic
, is something completely different. The Flaming Lips ditch the components of their last three albums for a primitive, dirty, blurry, stomp of an album. Embryonic veers between primal bass groves and drumwork and quiet, disquieting, moody pieces. 70's-esque keyboards and sounds are given special prominence over the guitar, which is treated as an alien artifact in
Embryonic
's sprawling, futuristic landscape. The Flaming Lips' last twenty years of music has had a Science Fiction subtext, but it's at the surface of Embryonic's sound. With the album being movie-length, it could easily soundtrack a gritty sci-fi film from
cinema's greatest decade
.
Coyne wisely lets the music occupy the forefront of Embryonic's technicolor palette, using vocals sparingly, but to great effect. His lyrics, however, can sometimes function as
Embryonic
's greatest detriment--they are as ponderous as ever. Coyne furthers his pagan ideals to the limit on
Embryonic
, even bragging on album closer, "Watching the Planets" that he's "
burning the Bible tonight.
" For a guy who supposedly doesn't believe in God, Coyne sure sings about Him a lot. Reviews are supposed to be objective, though, so while I may not agree with Coyne's lyrical sentiments,
Embryonic
's music hits plenty of sweet spots, and while it have could used a bit more focus, it's an excellent piece of work.
2009 Warner Bros.
1. Convinced of the Hex 3:56
2. The Sparrow Looks Up at the Machine 4:14
3. Evil 5:38
4. Aquarius Sabotage 2:11
5. See the Leaves 4:24
6. If 2:05
7. Gemini Syringes (featuring Thorsten Wörmann and Karen O) 3:41
8. Your Bats 2:35
9. Powerless 6:57
10. The Ego's Last Stand 5:41
11. I Can Be a Frog (featuring Karen O) 2:14
12. Sagittarius Silver Announcement 2:59
13. Worm Mountain (featuring MGMT) 5:21
14. Scorpio Sword 2:02
15. The Impulse 4:06
16. Silver Trembling Hands 3:59
17. Virgo Self-Esteem Broadcast (featuring Thorsten Wörmann) 3:44
18. Watching the Planets (featuring Karen O) 5:17