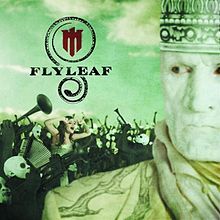 7/10
I saw Flyleaf's
Momento Mori
on sale for $3 and picked it up thinking my wife would like it. We had recently seen the band live at one of those 2009 Rock the River events, and their show was pretty good. Turns out I actually like this album more than my wife does.
Momento Mori
features slightly above average hard rock tracks. It's X-Factor is singer, Lacey Sturm, whose charisma and vocal powers elevate the album to an enjoyable listening level.
Momento Mori
doesn't change or improve the current heavy music scene, and it's more radio fodder than anything, but it's also pretty irresistible. Fourteen tracks are a bit much, but you are not going to throw on
Momento Mori
to achieve a transformative album listening experience. You throw on Momento Mori when you want to hear something catchy with a bit of an edge. It achieves that purpose quite well--at $3, it was a steal, even if it didn't reach it's intended audience.
2009 A&M/Octone
0. Uncle Bobby (hidden pre-gap track) 4:22
1. Beautiful Bride 3:03
2. Again 3:05
3. Chasm 2:54
4. Missing 2:54
5. This Close 3:20
6. The Kind 2:47
7. In The Dark 3:47
8. Set Apart This Dream 3:15
9. Swept Away 4:09
10. Tiny Heart 3:07
11. Melting (Interlude) 0:57
12. Treasure 3:24
13. Circle 3:03
14. Arise 4:18