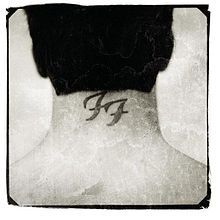 9/10
Of all Foo Fighters' albums, I most definitely have the warmest feelings toward 1999's
There Is Nothing Left to Lose
. I've detailed my love of 1999 in plenty enough posts. At the end of that year, I had a fairly major surgery to remediate a situation I had mistakenly thought was
life-ending
. The surgery, along with a viral infection I picked up in the hospital, put me in the bed for quite a while. Shortly after New Year's, I limped out of my room and into my family's living room, and plopped myself on the couch. My parent's were watching this and laughing hysterically.
"Look, he's dressed up like a woman," my dad said, pointing at the television. My parents' enthusiasm for Foo Fighter's cross-dressing antics was enough to send me into painful hysterics. Now, every time I hear any song from
There Is Nothing Left to Lose
, I think of hanging out in my parents' living room, watching music videos and VH1 Behind the Music marathons. Spoiler Alert: Whoever the Behind the Music episode is about is doing better by the end.
Apparently, Dave Grohl has warm feelings about this album, as well. According to Wikipedia, Grohl says
There Is Nothing Left to Lose
"might be his favorite album that they(Foo Fighters)'ve ever done." During the
There Is Nothing Left to Lose
period, Grohl was recovering from some truly awful times. Despite this, and though his band was down to only three members, Grohl was not deterred from making music. He took his two remaining band-mates to his studio-equipped home in Virginia that spring, and the three friends hung out, relaxed, and recorded whenever they pleased. Feelings of positivity and healing are usually absent from a rock album, but they are
There Is Nothing Left to Lose
's greatest assets.
The album finds cohesion in this relaxed atmosphere. It still rocks, especially in opening track, "Stacked Actors," but it doesn't force anything. At all times,
There Is Nothing Left to Lose
sounds like three talented musicians just playing together in a room (and perhaps consequently, Nate Mendel's excellent bass-playing has never before or since been given this much prominence). Strangely, this environment somehow resulted in Foo Fighters most experimental moments, as well. They've never really recorded anything as delicately powerful as album centerpiece, "Aurora," since. That's a shame, as it's a beautiful song. I admit it's moved me to tears once or twice, when I've been coming off some bad times.
Because of it's cohesion, flow of emotion, and lack of filler tracks,
There Is Nothing Left to Lose
is Foo Fighters first complete album from start to finish. It makes me miss some good times, but it consequently brings them back every time I listen.
1999 Roswell/RCA
1. Stacked Actors 4:17
2. Breakout 3:21
3. Learn to Fly 3:58
4. Gimme Stitches 3:42
5. Generator 3:48
6. Aurora 5:50
7. Live-In Skin 3:53
8. Next Year 4:37
9. Headwires 4:38
10. Ain't It the Life 4:17
11. M.I.A. 4:03