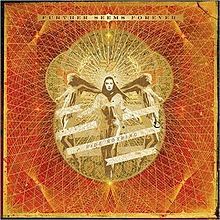 9/10
Apparently, what I want Further Seems Forever to sound like is far different from what most other people want Further Seems Forever to sound like. Case in point: the band's third album, and only release featuring vocalist, Jon Bunch,
Hide Nothing
.
I love
Hide Nothing
. I gives me everything I want from Further Seems Forever. The complex, but brief, and rocking songs feature catchy choruses that don't make me feel bad when I look in the mirror after singing them. Jon Bunch sounds like a grown-up, as opposed to the man-child sound of FSF's first two vocalists. Instead of singing about romantic woes or successes, he sings about the struggles of life in general. This epic band always deserved to have a vocalist singing about matters of eternal significance, not fleeting emotions. Bunch is this vocalist, and he fills this role astutely, with lyrics exponentially more stirring then the words gracing Further's previous work.
"
I'm not living for the past, I'm not living for the memories, there's no use in looking back, when there's nothing there to see
," he sings on "Call on the Life." I was coming off of my mythic 9-month migraine in 2004 when this album was released, and an album like this was just what I needed. Bunch and the rest of the band's work on
Hide Nothing
is incredibly uplifting and inspiring. The title couldn't be any more apt, as Further Seems Forever leave everything on the table with what was, before this age of miraculous reunions, their final album. They play their hearts out on these ten varied tracks. They even reach a celestial plain on the two part "Make it a Part"/"All Rise" duo, something they never even came close to before. Perhaps most tellingly, drummer, Steve Kleisath returns to his freewheeling, ten rolls a minute drumming, re-energizing the band's sound. Exactly what I want to hear.
But not, apparently, what the majority of people wanted to hear. Most Further fans I knew in 2004 were let down by this album, depressed, I guess, that
Hide Nothing
didn't sound "young." One of my best friends, completely disgusted with
Hide Nothing
, gave me her copy after just a few listens. I ended up marrying her, so it would have been mine anyway. This is a great album.
Yeah, there's a light up ahead! Also, get the Best Buy version of this, if you can. The three additional acoustic tracks are on another level. They're sort of like the heaven to the rest of
Hide Nothing
's earthly existence. I know I said the band reaches a celestial plain on "Make it a Part"/"All Rise," but on this version they close the whole album out with an acoustic rendition of that duo that's somehow even better.
2004 Tooth & Nail Records
1. Light Up Ahead 3:08
2. Hide Nothing 2:56
3. Already Gone 3:52
4. Like Someone You Know 3:16
5. Make it a Part 2:41
6. All Rise 2:49
7. Call on the Life 2:52
8. Lead the Way 2:32
9. Bleed 2:57
10. For All We Know 5:21
11. Bleed" (acoustic)* – 3:23
12. Light Up Ahead" (acoustic)* – 3:02
13. Make it a Part/All Rise" (acoustic)* – 4:25