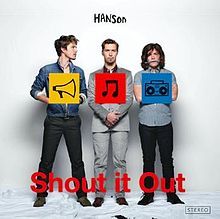 7/10
Hanson follows "The Walk" with what is essentially, "Walking On Sunshine, The Album." The weight lent to "The Walk" by the band's trips to Africa is missing on
Shout It Out.
What's left are the standard, lightweight, pop-rock songs Hanson have staked their name on, except of course these guys are hitting their 30's now. That means these songs are well-written for what they are, and the aforementioned "Walking On Sunshine" is repeatedly referenced with snappy rhythms and a bunch of sunny horns. The exceptions are the more emotional ballads, where, truthfully, Hanson sounds pretty decent. Actually, the end of that statement sums up
Shout It Out
in its entirety. Pretty decent.
I mean, anyone who can get Weird Al to play tambourine in their video can't be that bad, right?
2010 3CG
1. Waiting for This 3:17
2. Thinkin' 'Bout Somethin' 3:45
3. Kiss Me When You Come Home 3:38
4. Carry You There 4:32
5. Give a Little 3:45
6. Make It Out Alive 4:34
7. And I Waited 4:01
8. Use Me Up 4:04
9. These Walls 3:57
10. Musical Ride 3:48
11. Voice in the Chorus 4:38
12. Me Myself and I 5:30