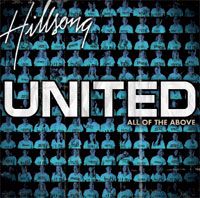 8/10
Considering that people essentially "graduate" from Hillsong United as they get older, it's hard to pinpoint the reason for United's positive artistic growth over the years. Maybe it's learning from predecessor's work. Maybe it's the college football effect, i.e. a more talented class of youngsters comes in and produces better results. Being in your thirties makes saying the word "youngsters" so much more satisfying. Whatever the cause, the group of individuals who created
All of the Above
, Hillsong United's first studio album, and the group's 10th album overall (the first nine were all recorded live), easily created the entity's finest work to that point.
Previous releases already featured power and weight, but little momentum or pace. The songs on
All of the Above
are not only better than those found on the band's previous work, but the album actually flows smoothly from end to end. It's not fast song, slow ballad, slow ballad, slow ballad, fast song, etc. The delineations in tempo and rhythm are far more intuitive here. In other words, Hillsong United's first studio album is actually an album. When something has power, weight,
and
momentum, it becomes a very dangerous machine. "Dangerous" is certainly not a word one would have associated with Hillsong United's previous work, but it applies here. Don't get me wrong,
All of the Above
still occasionally wanders into the frozen territories of boring balladry, but those moments are few and far between. The slower songs here are full of passion and bridled, but electric energy. The band use guitar effects and keyboard layers in ways they never have before. The album's final, slow-burning trio of powerful songs is reminiscent of...okay kids, I'm going to use a euphemism here. I'm not really talking about cookies, but...the last three songs are kind of like eating cookies in the middle of the night when you are nearly tired to the point of unconsciousness, and yet those cookies are somehow the best cookies you've ever had in your life.
Anyway...The clear breakout star of "All of the Above" is Brooke Fraser (now Ligertwood) whose memorable "Lead Me to the Cross" and album standout, "Hosanna," became surprise radio hits, boosting the group's name like never before.
These two tracks anchor the middle of the album, which would usually be the point where the band would paint by numbers. Instead, Fraser uses this part of
All of the Above
to lift the band to a whole new level. While it's clear Hillsong United have been listening to a lot of Sigur Rós (with a little Interpol and Editors influencing the snappier songs), their sound here is unique--no one will get this confused with the regular old Hillsong releases. Here's Adam Sandler on the subject:
2007 Hillsong Music Australia
1. Point of Difference 4:22
2. Break Free 4:07
3. Desperate People 5:29
4. Devotion 5:59
5. Draw Me Closer 1:26
6. Lead Me to the Cross 4:18
7. Found 6:02
8. Hosanna 5:30
9. For All Who Are to Come 3:37
10. Solution 4:37
11. My Future Decided 4:18
12. Never Let Me Go 6:01
13. You 5:03
14. Saviour King 12:16