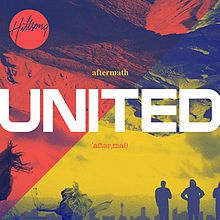 8/10
I speculated in my previous review that the Hillsong United of 2009 sounded exhausted. I think I was correct. After the release of
Across the Earth
, and for the first time in the band's eleven year history, Hillsong United took a hiatus. 2010 is the only year since 1997 that Hillsong United have not released an album. Taking a break was a great idea. 2011's
Aftermath
show's Hillsong United, at the time of release, musically stronger than ever.
It's clear from the start that United has added to its studio repertoire. Album opener "Take Heart" showcases the band's first use of strings, and they pop up throughout the album to great effect. "Take Heart" is a very nontraditional opener for United. It actually starts in a fairly dark place, like the band has its back against the wall, slowly building to an almost chillingly beautiful crescendo of victory. Basically, it's this in slow motion.
This feeling of newness infiltrates the majority of
Aftermath
. In addition to strings, Hillsong also experiment just a bit with electronic music, paying off the biggest dividend when it collides with the strings at the surprise climax of "Like an Avalanche." This band knew power before, but here they wield it like a galaxy wields stars. The big moments on this album are astronomical in scale. When even a simple interlude between songs can induce tears, someone is doing something right.
If
Aftermath
has a flaw, it's that the band do embrace their old identity a bit in the final third, dallying with less interesting ballads again, and more traditional guitar sounds. Still,
Aftermath
is a huge artistic leap for Hillsong United, and a welcome portend of things to come.
2011 Hillsong Music Austalia
1. Take Heart 7:37
2. Go (Giving It All Away) 3:37
3. Like an Avalanche 4:24
4. Rhythms of Grace 5:44
5. Aftermath 5:00
6. B.E. (Interlude) 2:54
7. Bones 6:16
8. Father 6:51
9. Nova 5:45
10. Light Will Shine 3:36
11. Search My Heart 6:05
12. Awakening 7:11
13. Search My Heart (Radio Version) 3:55