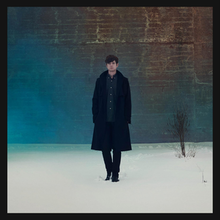 8/10
James Blake's self-titled debut album was a rigid exercise. It seemed like Blake had imposed limits on himself--
I can only sing this loud; I can only use these sounds
. He seems absolutely liberated on his sophomore outing,
Overgrown
, unbound by genre or rules.
Overgrown
's first noticeable upgrade is its more expansive soundscape. Compared to Blake's tiny-sounding, self-titled debut,
Overgrown
sounds huge, even as it continues to espouse Blake's trademarked subtlety. He has described his work lately as "melodic bass music." That's pretty apt. This music is often centered around a strong beat, filled in with electronic milieu of Blake's imagining. What is refreshing here is that Blake diversifies his sound on
Overgrown
, yet is also able to make it more accessible. There's a pop skeleton giving direction to almost every sound here, which actually liberates Blake, as opposed to limiting him. This leads to the second upgrade to Blake's sound: his voice.
Blake's singing is far looser and more enjoyable here. He still distorts his voice from time to time, but seems far more confident to let it stand as a counterpart to the music. On the debut, his vocals were often just another wave of noise.
With these steps forward, Blake proves he isn't just some weightless image to be floated by tastemakers. He is a talent to watch.
2013 ATLAS/A&M/Polydor
1. Overgrown 5:00
2. I Am Sold 4:04
3. Life Round Here 3:37
4. Take a Fall for Me (featuring RZA) 3:33
5. Retrograde 3:43
6. DLM 2:25
7. Digital Lion (featuring Brian Eno) 4:45
8. Voyeur 4:17
9. To the Last 4:19
10. Our Love Comes Back 3:39